Since the founding of the nation, higher education has helped female faculty and students to assert themselves to establish equality between men and women across the country (Morris, 1984). During the nineteenth century, women had limited access to many sectors of American society because of their inferior status to men. Such differences were visible in both political and academic arenas. This discrimination reflected general societal norms of the time, relegating women to the roles of mothers and homemakers. Theoretically, there are several models that address the development of women in higher education. Women & Gender in Higher Education provides a comprehensive review of the various concepts that illustrate how women understand the world around them, make meaning for themselves and their environment, and acknowledge the intersectionality of their identity. In addition, it breaks new ground in the conversation about the roles of women and gender in higher education.
Maker Education is a relatively new, transformational approach to teaching, which combines hands-on learning and project-based learning. Maker teachers encourage their students to create their own concepts, experiment, fail and experiment again until they've made something personally meaningful. Teaching Maker Education in Colleges of Education is critical to the preparation of pre-service teachers interested in instilling the principles of the approach in their specific discipline. Because the maker concept dovetails with active learning theory, it is easy for pre-service teachers to grasp the concept and start to think of their classroom as a makerspace where students create and build to learn. Infusing Maker Education into Teacher Education is the perfect textbook for use in instructing pre-service teachers in a variety of disciplines.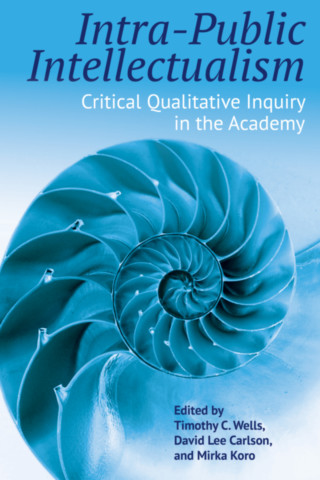 In a decidedly anti-intellectual moment, exemplified by such recent phenomena as denials of science, defunding of universities, and distrust of "facts," Intra-Public Intellectualism examines the relationships among qualitative inquiry, truth telling and social activism.
With contributions from scholars and activists around the world, the book addresses three key tensions in the field of social inquiry. The first tension concerns the proliferation of digital environments and virtual spaces, exploring how the "public" in public intellectualism might be reconsidered. The second tension concerns the ongoing critiques of truth and subjectivity, exploring how these disruptions change the work of the intellectual. The third tension concerns the growing scientific and philosophical rejection of static material worlds, exploring what becomes of social responsibility and justice when agency extends beyond human subjects.
Intra-Public Intellectualism will be a must read for those interested in the roles of the intellectual in the academy and beyond and those keen on rethinking critical social inquiry for the twenty-first century.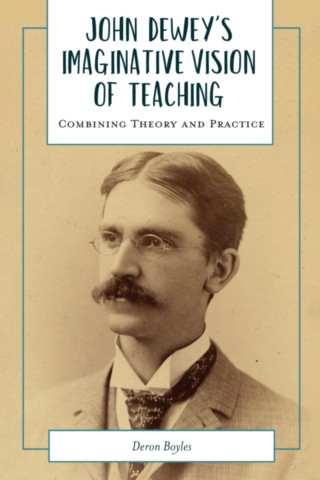 John Dewey's Imaginative Vision of Teaching
explores key philosophical topics in John Dewey's work, including epistemology, ethics, and aesthetics, and relates them to teacher practice and education policy. Each chapter begins with theory and ends with practical implications. While there are numerous books on Dewey, there are relatively few that connect his philosophy of education to actual practice. By linking primary fields of philosophy with classroom teaching and education policy, Boyles suggests that the binary between theory and practice is a false chasm that can and should be bridged if teaching and learning are to change into more dynamic, reflexive, and authentic interactions.
The Improvement Science Dissertation in Practice
provides a narrative and illustration about the purpose and features comprising the Dissertation in Practice and how this culminating experience is well suited to using Improvement Science as a signature methodology for preparing professional practitioners. This methodology, when combined with the Dissertation in Practice experience in EdD programs, reinforces practitioner learning about and skills for leadership and change. As a guide, the book is an extremely valuable resource that supports faculty, students, and practitioners in the application of Improvement Science to pressing educational problems in a structured, disciplined way.
In what ways can performance be mobilized to resist? This is the question that the present volume explores from within the context of qualitative research. From an arts-based approach, authors suggest methods on how artistic practice resists. The volume addresses how critical performance autoethnography might retain its ethical and democratic potential without falling into dogmatism or hegemony. This vision for democracy can even be accomplished through improvised, process-centered pieces that weave together thoughts from several key scholars, all to give us a critical perspective on how performative autoethnography is paradigmatically situated. The performance texts collected here question and resist, showing how the experience of art-making can move us through political and public spaces with liberatory potential, challenging social and ideological hegemonies and to generate social movements. Imaginative arts-based practices allow us access to emotional and embodied phenomena that remain otherwise foreclosed by traditional forms of inquiry. From poetics to public performances, subversive interventions, and more, these chapters bring a radical performative discourse to the fore. In so doing, the chapters work to create a framework for just performance, showing us how we might live performance as resistance.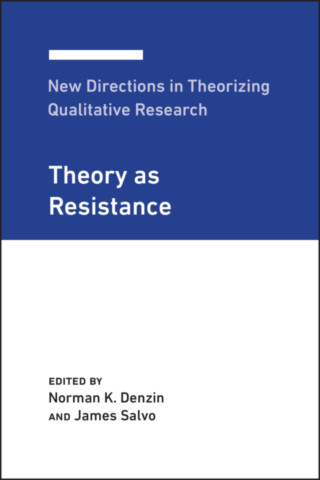 What can it mean to resist in these troubled times, and how can we do so through theory? This volume presents novel ideas on how to accomplish this in the context of the field of qualitative research. The authors show us how we might go beyond pre-existing, systematized research methodologies to find our way. They challenge us to go beyond facile modes of thought and slow down any mechanistic practices of research, a slowing that can be surprisingly generative regarding pedagogy and knowledge production. The articles think through theories such as ones theorizing the postcolonial for the purpose of responding to global hegemony regarding institutional experiences of academe. They engage with practices of new materialism and show the multiform ways in which theory can be a companion to us in our journey of research. Further, the articles question hold-overs from humanist and modernist thought so that we might perform an inclusive pedagogy. Rather than falling into the cynical view that the world is too troubled to change, this volume presents a sound vision that we have no option but to engage in theoretical practice, for now, there's no time not to think.
This research guide addresses the difficulties novice and early career researchers often have with understanding how theory, data analysis and interpretation of findings "hang together" in a well-designed and theorized qualitative research investigation, as well as learning how to draw on such understanding to conduct rigorous data analysis and interpretation of their analytic results. Books that describe data analysis approaches and methods often fail to address the question of how to decide which ones are most appropriate for a particular kind of study, and why they are the best options. This book seeks to clarify these issues in a distinctive way. Chapter authors draw on a successful study they have undertaken and spell out their "problem area," research questions, and theoretical framing, carefully explaining their choices and decisions. They then show in detail how they analyzed their data, and why they took this approach. Finally, they demonstrate how they "translated" or interpreted the results of their analysis, to make them meaningful in research terms.
In 1969, Neil Postman and Charles Weingartner published Teaching as a Subversive Activity. Subversive teaching today, however, looks very different than it did in 1969. Teachers today must deliver their instruction in an era of formidable challenges related to curriculum, educational policy, and cultural and political ideology. Students learn in an environment that includes active shooter drills and increasingly violent public policy that assaults immigrants, people of Color, women, and the LGBTQIA+ community. A robust public education is needed now more than ever, though the resources to provide it dwindle daily.

Acts of Resistance: Subversive Teaching in the English Language Arts (ELA) Classroom showcases examples of subversive pedagogy to instruct and inspire teachers and to contextualize subversive ELA pedagogy in the contemporary educational moment. Chapter authors--in-service teachers and teacher educators alike--draw from case studies, narrative inquiry, and other qualitative methodologies to explain how they have variously taken up subversive pedagogy in the ELA classroom. Because teachers and other stakeholders resist oppressive structures—including disciplinary confinements—when they teach from subversive viewpoints, each chapter describes a disciplinary "act of resistance" that illuminates possibilities for countering uncritical, "traditional" handling of ELA experiences.
Originally published in 1993, Silencing Ivan Illich fell out of print when the original publisher went out of business in 1995. The author, David Gabbard, states that the book was pivotal in the evolution of his understanding of schools. Delving into Foucault's work to forge a methodology, he wanted to understand the discursive (symbolic) forces and relations of power and knowledge responsible for the marginalization of Ivan Illich from educational discourse. In short, Illich was "silenced" for having committed the heretical act of denying the benevolence of state-enforced, compulsory schooling. In Silencing Ivan Illich Revisited, Gabbard revisits the text as a means of opening the question of what schools should be. Inspired by Slavoj Žižek's call for a Positive Universal Project, the book provides an alternative vision of what our species ought to be doing in the name of collective learning.
The first wave of Black immigrants arrived in North America during the 1960s and 1970s, coming originally from the Caribbean. An opportunity was missed, however, in documenting their everyday experience from a social science perspective: what did it mean for a Barbadian or a Jamaican to live in Toronto or New York? Were they Jamaicans or did they go with the descriptor 'Black'? What relationship did they have with African Canadians or African Americans? Black Immigrants in North America answers these and other questions while documenting the second wave of Black immigration to North America, which started in the early 1990s. Theoretically and empirically grounded, the book is a documentation of the process of becoming Black – a radical identity transformation where a continental African is marked by Blackness. This, in turn, leads to a deeper understanding of what it means to encounter that social imaginary of, 'Oh, they all look like Blacks to me!' This encounter impacts what one learns and how one learns it, where learning English as a Second Language (ESL) is sidestepped in favor of Black English as a Second Language (BESL). Learning becomes a political and a pedagogical project of cultural, linguistic and identity investment and desire.

Perfect for courses such as: Black Immigrants, Race Complexity, Critical Applied Linguistics, Ethnography, Graduate Course on Educational Foundations and Curriculum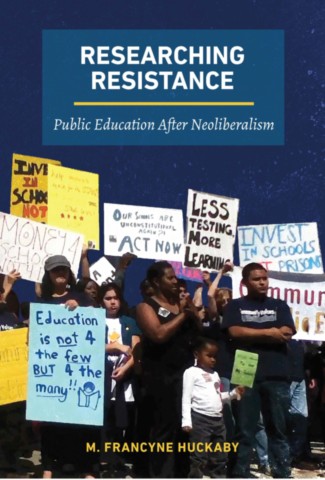 2020 Outstanding Book Award Honorable Mention from Division B (Curriculum Studies) of the American Educational Research Association


Researching Resistance: Public Education After Neoliberalism
serves two vital functions. First, it explores, explicates, and encourages critical qualitative research that engages the arts and born-digital scholarship. Second, it offers options for understanding neoliberalism, revealing its impact on communities, and resisting it as ideology, practice, and law. The book delves into
• strategies for engaging neoliberalism
• the Black feminist cyborg theoretical assumptions and intentions of the ethnographic web-based film project
• the research and arts-based methodology that walks the fault line between film and ethnography, and
• the relationships between the researcher, the activist organizations, and the activism.
While the book will focus on neoliberalism within the realm of public education, the implications extend to many other areas of public life.
This is an excellent text for classes in qualitative research and public policy. It is the companion text to the digital native ethnographic film project entitled Public Education|Participatory Democracy: After Neoliberalism.
Perfect for courses such as: Qualitative Research, Curriculum Studies, Women and Gender Studies, Race and Ethnic Studies, Sociology of Education, Social Justice and Education, Democracy and Civics, Community Engagement, Policy Studies, Service Learning, Education Reform, and Youth Advocacy.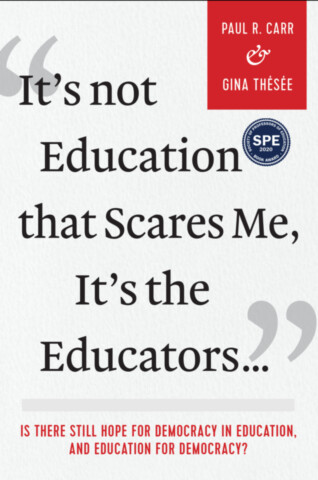 A 2020 SPE Outstanding Book Award Honorable Mention
Many people believe that "education" has a disproportionately negative effect on them and those close to them. With so much wealth, technological prowess, innovation, and economic development, why do we still have marginalization, social inequalities, conflict, mass incarceration and generational poverty?
The connection to democracy, Education for Democracy (EfD) and social justice is, for Carr and Thésée, clear, and this volume interweaves a narrative within these themes based on a Freirian theoretical backdrop. This book presents a vision for transformative education and EfD, seeking to cultivate, stimulate and support political and media literacy, critical engagement and a re-conceptualization of what education is, and, importantly, how it can address entrenched, systemic and institutional problems that plague society. Based on over a decade of empirical research in a range of contexts and jurisdictions, the authors strive to link teaching and learning with agency, solidarity, action and transformative change within the conceptual framework of a critically-engaged EfD.
Perfect for courses in: Sociology of Education; Social Justice and Education; Democracy and Civics; Community Engagement; Education Policy; Service Learning; Education Reform; Citizenship Education; Transformative Education; Politics of Education.
This volume engages researchers with the notion of critical qualitative inquiry (CQI) as a direct practice of resistance. As female educators and researchers who have (through our politically activist sister) been referred to as "Nasty Women" in the US presidential debates, we believe that it is our responsibility to respond through our inquiry to the violent reinscription of intersecting forms of injustice and marginalization. The purposes of this volume are therefore (1) to demonstrate personal actions taken by researchers to deal with thoughts/feelings of despair as well as how to move toward survival, and (2) to explore historical, new, and rethought research and activist methodologies (frameworks) as counter measures broadly and for public education specifically. Examples of CQI as resistance in response to the particular neoliberal patriarchal, whitelash presidential election event are provided by featured authors. Additionally, resources related to activist scholarship are provided. These frameworks, resources, and perspectives are also useful for future research in reaction to neoliberalism, patriarchy, and white supremacy.

Perfect for courses such as: Qualitative Research, Curriculum Studies, Women and Gender Studies, Race and Ethnic Studies, Sociology of Education, Social Justice and Education, Democracy and Civics, Community Engagement, Policy Studies, Critical Race Theory, Intersectional Studies, Posthuman Inquiry, and Activism and Performance Inquiry.
This new release of the classic text Pragmatism is absolutely timely. James' seminal statement of pragmatism's underpinnings and its treatment of essential philosophical questions (the nature of truth; the one and the many; free will; etc.) could not come at a more appropriate time. In a "post-truth" era of fake news, alternative facts, and a belief that "truth isn't truth," James' presentation of pragmatism as a method of adjudicating truth-claims is a must-read.

Perfect for courses in: Philosophy of Education (Graduate Level), American Philosophy (Graduate and Upper-Level Undergraduate), American Studies, Special topics class on William James or Pragmatism, Sociology of Education (Graduate Level), Religious Studies.
Lib E-Book

Library E-Books
We have signed up with three aggregators who resell networkable e-book editions of our titles to academic libraries. These aggregators offer a variety of plans to libraries, such as simultaneous access by multiple library patrons, and access to portions of titles at a fraction of list price under what is commonly referred to as a "patron-driven demand" model.
These editions, priced at par with simultaneous hardcover editions of our titles, are not available direct from Stylus, but only from the following aggregators:
Ebook Library, a service of Ebooks Corporation Ltd. of Australia
ebrary, based in Palo Alto, a subsidiary of ProQuest
EBSCO / netLibrary, Alabama
as well as through the following wholesalers: The Yankee Book Peddler subsidiary of Baker & Taylor, Inc.
9781975501624
These are certainly troubled times in which neoliberal capitalist patriarchy and the tyranny of racism and domination are continually reinscribed on the bodies and lives of so many. However, critical researchers understand the necessity for, as well as the difficulty of, using research to facilitate public transformations that lead to increased justice and equity. The authors contributing to Making Research Public in Troubled Times: Pedagogy, Activism, and Critical Obligations recognize the importance of diverse pedagogies, activism, and ethical choices regarding an environment that supports critical research in oppressive times. Diverse pedagogies that can facilitate the education of critical public researchers across disciplines are illustrated in the first set of chapters addressing questions like: What is important in teaching critical qualitative inquiry? How do students, materials, histories, and the public influence this teaching? What have we learned over years of attempting to teach critical qualitative research methods? The authors in the second section are activist local scholars sharing their projects and explaining what this work means for critical qualitative inquiry. This work includes methods used to incorporate critical qualitative inquiry into community activism. Finally, chapters in the last section focus on future steps and most important actions for the ways critical qualitative inquiry can be conceptualized to address concerns in these troubled times.
Perfect for courses such as: Qualitative Research, Curriculum Studies, Women and Gender Studies, International Studies, Social Work, Sociology, Higher Education, Community Engagement, Policy Studies, Service Learning, and Social Justice.