Marybeth Gasman
Marybeth Gasman is the Samuel DeWitt Proctor Endowed Chair in Education and a Distinguished Professor at Rutgers University. She serves as the Executive Director of the Samuel DeWitt Proctor Institute for Leadership, Equity & Justice and the Executive Director of the Rutgers Center for Minority Serving Institutions. Prior to joining the faculty at Rutgers, Marybeth was the Judy & Howard Berkowitz Endowed Professor in the Graduate School of Education at the University of Pennsylvania. While at Penn, Marybeth also served as the founding director of the Penn Center for Minority Serving Institutions (MSIs). Her areas of expertise include the history of American higher education, Minority Serving Institutions (with an emphasis on Historically Black Colleges and Universities), racism and diversity, fundraising and philanthropy, and higher education leadership. She is the author or editor of 25 books, including Educating a Diverse Nation (Harvard University Press, 2015 with Clif Conrad), Envisioning Black Colleges (Johns Hopkins University Press, 2007), and her newest book Making Black Scientists (Harvard University Press, 2019 with Thai-Huy Nguyen). Marybeth has written over 250 peer-reviewed articles, scholarly essays, and book chapters. She has penned over 450 opinion articles for the nation's newspapers and magazines and is ranked by Education Week as one of the 10 most influential education scholars in the nation. Marybeth has raised over $23 million in grant funding to support her research and that of her students, mentees, and MSI partners. Marybeth has served on the board of trustees of The College Board as well as Paul Quinn College, a small, urban, historically Black College in Dallas, Texas. She considers her proudest accomplishment to be receiving the University of Pennsylvania's Provost Award for Distinguished Ph.D. Teaching and Mentoring, serving as the dissertation chair for over 80 doctoral students since 2000.
Books by Marybeth Gasman: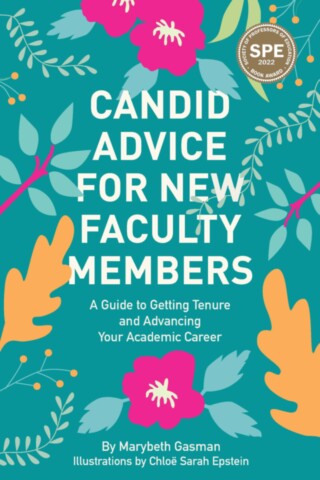 A 2022 SPE Outstanding Book Honorable Mention
"
If you want to achieve tenure, you should know a bit more about what it means and why it exists, and its benefits. All too often, even faculty don't understand why tenure is important
."
Thus begins the Preface of
Candid Advice for New Faculty Members
, the newest and most comprehensive "how to" guide for graduate students, post-docs, and junior faculty across a variety of academic disciplines. Drawing upon her own extensive experiences and that of many colleagues, Marybeth Gasman provides you with an incredibly valuable tool for attaining tenure and for the things that you should do to advance your academic career. She provides practical (and sometimes humorous) advice about a range of topics.