Candid Advice for New Faculty Members
A Guide to Getting Tenure and Advancing Your Academic Career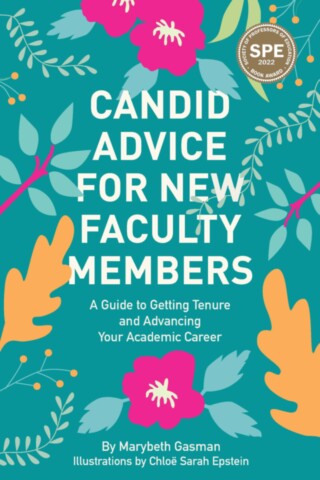 6" x 9"
Language: English
A 2022 SPE Outstanding Book Honorable Mention
"
If you want to achieve tenure, you should know a bit more about what it means and why it exists, and its benefits. All too often, even faculty don't understand why tenure is important
."
Thus begins the Preface of
Candid Advice for New Faculty Members
, the newest and most comprehensive "how to" guide for graduate students, post-docs, and junior faculty across a variety of academic disciplines. Drawing upon her own extensive experiences and that of many colleagues, Marybeth Gasman provides you with an incredibly valuable tool for attaining tenure and for the things that you should do to advance your academic career. She provides practical (and sometimes humorous) advice about a range of topics, including:
negotiating job offers
planning a research agenda
improving your teaching skills
managing service
advising students
applying for research grants
achieving life/work balance
managing academic politics
In addition to this valuable career advice, Gasman provides a peek behind the academy's curtain by painting a vivid picture of the inner workings of the academy and all of its players.
Candid Advice for New Faculty Members
is required reading for every newly-minted faculty member, regardless of academic discipline. The wisdom provided in this volume will prove to be invaluable to your future career.
Perfect for courses such as:
Doctoral seminars across various disciplines, College and University Teaching, Graduate Student Research Seminars, Professional Development Seminars
Table of Contents:
Acknowledgments

Preface

Introduction: Reflections on My Journey to the Professoriate

1. You Got the Offer, Now What?

2. How to Plan a Research Agenda and Publish

3. How to Teach at Your Best

4. How Do I Manage Service?

5. Advising for Success

6. Do I Have to Apply for Grants?

7. Surviving Faculty Politics

8. How Do I Achieve Work/Life Balance?

9. And the Rest of the Job…

Concluding Thoughts

Epilogue: What if I'm a Woman and/or a Person of Color? Three Interviews

Appendix A: Peer-Reviewed Journal Matrix

Appendix B: Books on Writing

Appendix C: Establishing a Center or Institute

Appendix D: Sample Tenure Essay

Appendix E: Tips for Online Teaching

Appendix F: Suggested Outline for CV

Appendix G: Select Funders for Academic Research

Appendix H: Select List of Fellowships

Appendix I: Consulting and Public Speaking Log

About the Author

About the Illustrator

Index

NOTE: Table of contents subject to change up until publication date.
Reviews & Endorsements:
"Reading Candid Advice for New Faculty Members by Marybeth Gasman makes you feel like you are in the presence of that mentor you always wanted—someone deeply knowledgeable and experienced, with sound and realistic judgment, who delivers thoughtful and practical advice with your best interests at heart…For those faculty on the tenure track and for graduate students applying for tenure track positions, the book will prove its worth many times over."

Kevin J. Delaney, Professor of Sociology at Temple University, Review excerpt in The Journal of Faculty Development, Vol. 37, No. 2, May 2023
"Candid Advice for New Faculty Members: A Guide to Getting Tenure and Advancing Your Academic Career is a road map for new faculty on how to navigate the brutal tenure system. It is easy to read and gives essential advice on how to be successful in one's tenure application, how to develop an excellent teaching portfolio, and how to approach research and service, especially for women and faculty of color. Gasman gives simple and clear advice for staying focused on scholarship and teaching, and navigating academic politics."

Abdalla Darwish, Ph.D. Presidential Professor, Physics & SPIE Fellow Dillard University
"A must read for anyone considering academia or on tenure-track. As a 3rd year tenure-track faculty with prior industry, non-profit and entrepreneurial experience, I had contemplated leaving academia before reading Candid Advice for New Faculty Members: A Guide to Getting Tenure and Advancing Your Academic Career. Gasman shares, in great detail, the value of tenure through a lens I hadn't seen before. Her diverse experience and extensive knowledge allow her to provide the perfect insight in a candid, humorous fashion that is on point and right on time."

Trina Fletcher, Assistant Professor, College of Engineering and Computing, Florida International University
"Gasman's book is an important resource for new faculty members, especially faculty of color, whether at a private elite institution of higher education or at a comprehensive public institution. This book provides straightforward advice to new faculty members on how to work hard, work smart, dream big, and strive to bring balance into your academic and personal life. New faculty members as well as graduate students should read this book."

Timothy P. Fong, Professor, Ethnic Studies, California State University, Sacramento
"Candid Advice for New Faculty Members: A Guide to Getting Tenure and Advancing Your Academic Career is an insightful guide that provides experience-based advice on how to maintain one's focus while navigating tenure, believe in one's own worth, and chart out a fulfilling path –all while following one's passion. In presenting her own experience, Professor Gasman opens a view into her world, with sincerity, humor, and the unabashed intention that others learn from her stories. One is left with a renewed sense of community and inspiration, after her unveiling of the so-called mysteries of the academy that bring into clearer view the importance of what's real–our contributions to making the academy a more collaborative place."

Saúl Jiménez-Sandoval, Interim President, Provost & Professor of Spanish and Portuguese, California State University, Fresno
"Drawing on her inspiring story and fueled by a rare coupling of candor, humor, and an abundance of wisdom, Professor Gasman provides tenure-track faculty with a wellspring of promising ideas for surviving and flourishing on their journey to tenure and beyond. I have no doubt that readers will treasure many of her ideas for overcoming the most formidable and often invisible challenges facing many faculty and, no less, her wellspring of lessons for faculty to thrive on their pathway to tenure. I haven't had such fun reading a book in a long time and highly recommend it to faculty, administrators, and students across the landscape of higher education."

Clif Conrad, Villas Distinguished Professor, University of Wisconsin-Madison
"Marybeth Gasman has gone beyond creating a window to the almost extraterrestrial world of faculty life in Candid Advice for New Faculty Members: A Guide to Getting Tenure and Advancing Your Academic Career. Welcoming us into that world, she has provided veritable bricks for building a durable and rewarding academic career in it. Faculty at every stage of the academic career lifecycle will find Marybeth's transparency—punctuated by daughter Chloë's keen illustrations—illuminating, refreshing, and useful. This book deserves a home in every aspiring, junior, and senior faculty member's personal collection."

Andrew T. Arroyo, Associate Professor, Educational Leadership, Virginia Commonwealth University
"If you have ever met Marybeth, you know first-hand that she cares deeply about academia and shepherding people through the landmines in our field. With her expertise, she weaves that same care and concern through this book. In the academic environment of cloak and dagger duplicity, Marybeth's perspective is refreshingly transparent. She not only demystifies the process, but she also gives sage wisdom that many will not offer. Regardless of institutional type, scholars should consider this a 'must read.' My only wish is that this text had been available when I engaged the tenure-track."

Leah P. Hollis, Associate Professor, Education, Morgan State University
"Starting a tenure-track professorship is a very daunting experience. There are so many unknowns and experiences that must be successfully navigated through to achieve the goal of acquiring tenure. Marybeth Gasman's Candid Advice for New Faculty Members offers essential guidance and lessons learned from within the capricious world of academia that will help one attain a flourishing profession. This book is a must-read for those at the beginning and/or mid-portion of their academic career."

Sultan Ali Jenkins, Assistant Professor, Biology, LaGuardia Community College
"Marybeth Gasman is one of the most prolific and important voices in higher education today. Candid Advice for New Faculty Members: A Guide to Getting Tenure and Advancing Your Academic Career offers access to critical information that every new tenure-track faculty member needs. As a chief diversity officer and director of the Carolina Postdoctoral Program for Faculty Diversity, I highly recommend this book to any graduate student or postdoctoral fellow starting a new tenure-track appointment. Gasman's book is the equivalent of having an academic coach in your back pocket. She has captured the most weighty matters and challenges for early-career faculty—navigating departmental politics, publishing and preparing for the tenure review, securing funding and faculty fellowships while trying to achieve work life balance. An absolute must-read book that you will return to again and again."

Sibby Anderson Thompkins, Special Advisor for Equity & Inclusion and Chief Diversity Officer, Professor of Practice in Public Policy, The University of North Carolina at Chapel Hill
"Candid Advice for New Faculty Members: A Guide to Getting Tenure and Advancing Your Academic Career provides an invaluable roadmap for unlocking the mysteries of navigating the academy. Written thoughtfully and authentically, Gasman intertwines her life experiences with lessons from the academy to offer supportive ways new faculty can succeed and not feel alone in their tenure track journey. This is an inspiring and much needed resource!"

Dina C. Maramba, Associate Professor of Higher Education, Claremont Graduate University
"As an African American law professor, Dr. Gasman and I are from different racial and disciplinary backgrounds. But she served as a tremendous guide for me during my early academic career. In short, her advice was indispensable. Now, the advice that took me from Assistant Professor to Full Professor with tenure and Associate Dean in just seven years is in book form. Candid Advice for New Faculty Members: A Guide to Getting Tenure and Advancing Your Academic Career is the path for those who seek to be successful and productive academics."

Gregory S. Parks, Professor of Law, Wake Forest University
"Colleges and universities that do not have robust faculty development programs could use this book as a roadmap to prepare new faculty with a firm footing to launch a potentially noteworthy career. Marybeth highlights the explicit and, more importantly, implicit nuances to successfully attaining tenure. I will be using many of the points made in this book to develop a best practices document for new faculty in our Physics Program. This book can serve as the information afforded from the conversations, so many faculty members had at the start of their tenure journey. Sometimes faculty of color slip through the cracks of the tenure process. This book shines a critical light on a faculty member's approach to become a successfully tenured faculty member."

B. Kent Wallace, Assistant Professor, Physics Fisk University
"Gasman takes the reader behind the proverbial curtain of the Ivory Tower. Her friendly, conversational tone draws you into the engaging narrative of what she admits to be her unlikely rise in academe. (Of course, anyone who knows Gasman is deeply acquainted with her broad intelligence, sharp insights, and relentless determination to uncover the truth.) But entwined with her individual and absolutely American success story is an essential primer for the aspiring academic. Though an historian of education by training, Gasman delivers advice that transcends the silos of established academic disciplines. She clearly respects and loves the academy, but is not blind to its many and serious shortcomings, particularly with regard to diversity.


With her characteristic generosity, Gasman acknowledges the work of other scholars who have pursued this topic. However, her book pushes into such areas as 'work/life balance,' what happens (or should happen) after getting the 'dream job,' and the real challenges that continue to confront women and people of color in academe—subjects that were, frankly, ignored or disparaged when I began my own career as an historian of higher education over thirty years ago.

Simply stated, if Marybeth Gasman's book had existed when I entered graduate school at Princeton University in 1988, I would have avoided many professional missteps and been a more productive and happier citizen of the university, that wondrous place that the late A. Bartlett Giamatti once called 'a free and ordered space.'"

Darryl L. Peterkin, Director, Clara I. Adams Honors College, Morgan State University
"Enlightening. Accessible. Replicable. Timely. Direct. Authentic. Candid Advice for New Faculty Members should be required reading for both junior faculty navigating the expectations, challenges, and rewards of the academy, and departmental executives guiding new faculty through the tenure process."

Christopher M. Span, Associate Dean for Graduate Programs, University of Illinois at Urbana-Champaign
"Marybeth shares insights about faculty life's complexities that many sacrifice years of their careers to learn the hard way. Though her focus is on faculty neophytes, there is valuable information in this tome that anyone interested in junior faculty's success can use immediately. As a scholar and someone who has directly benefitted from Marybeth's care and mentoring, I look forward to sharing this book with my faculty colleagues across the country and my graduate students with faculty career aspirations. This book is a timely reminder that you can meet tenure expectations and prioritize your health and family."

Michael Steven Williams, Assistant Professor, Educational Leadership & Policy Analysis, University of Missouri