Reflecting on Autoethnographic and Phenomenological Experiences: A Caregiver's Journey is a unique critical qualitative inquiry study that uses the author's experience as a caregiver to his wife suffering from dementia as the basis of a critical autoethnography. It explores components of positive caregiving that may be not only melancholic and empirical, but also emotionally painful. The book employs multiple approaches that include critical narrative, phenomenology, autoethnography and experiential writing. Through a phenomenological lens of an insider that includes self- and other-hood, marriage, career, fatherhood, suicide, despair, triple grief, loss, caregiving, cooking, housekeeping, advocating mind reading, and encouraging, a narrative illustrating self-reflection on particular experiences is constructed. These culminating experiences result in first-hand and didactical understandings by the caregiver. Individual, personal, and subjective interpretation of relational happenings are explored. Reflective journaling and observations of the seasons of marital life seek to understand if and how shared experiences transcend multiple contexts and help the reader understand experiences of dementia. Reflecting on Autoethnographic and Phenomenological Experiences: A Caregiver's Journey is a volume that will be invaluable to qualitative inquiry researchers, autoethnographers, and those readers interested in the research of caregiving.
This book offers qualitative researchers an entrée into the world of working with archival repositories and special collections. It serves as a primer for students and researchers who might not be familiar with these sorts of collections, but with an interest in what has become known as the "archival turn," in which the use of archival materials and artifacts in contemporary research has increased dramatically since the 1990s. Suited to novice researchers seeking a general introduction into how special collections are created and how they can be used, the book offers useful, clear guidance on using different types of archives, developing topics for research within the archives, assessing materials available, how to work with archivists and curators, documenting the research process, and writing up an archival study. Archival records and material culture (including manuscripts, documents, audio- and video-recordings, and visual and material culture) housed in special collections provide a wealth of resources for qualitative researchers seeking to conduct research in the social sciences.
Opening Third Spaces for Research in Education challenges dominant educational research methods. It rejects the reductive binaries normalized in social science research—theory/practice, objective/subjective, quantitative/qualitative. Drawing from multiple fields and eras, the book opens third spaces between these artificial poles to help researchers expand interpretations and possibilities for research. Critiquing the current focus on the measurement of "student learning outcomes" and high-stakes assessment, the book offers conceptual tools and case examples to support educators in reconceptualizing research. The book critiques the modernist notion that learning is an individual mental process of acquiring knowledge or skills. It argues instead that learning is inextricably entangled with social relations and cannot be isolated or controlled no matter how scientifically rigorous researchers try to be in their study designs. This challenges the current goal of educational research instruction to design "valid and reliable" studies that provide evidence for "best practices," and reimagines it as opening third spaces to expand opportunities and approaches for inquiry.
Anticipating Education is an interdisciplinary collection of Britzman's previously published and unpublished papers that examines the dilemmas created by anticipating education, provoked when teachers, students, and professors encounter the unknown while trying to know emotional situations affecting their waiting, wanting, and wishing for teaching and learning. Anticipation has a particular flavor in scenes of education and not only since schooling presents again the mise-en-scène of childhood; anticipation also signifies the estranged temporality of anxiety, phantasies, and defense that compose and decompose hopes for transforming knowledge, sociality, and subjectivity in group life.
Since the founding of the nation, higher education has helped female faculty and students assert themselves in establishing equality between men and women across the country (Morris, 1984). During the nineteenth century, women had limited access to many sectors of American society because of their inferior status to men. Such differences were visible in both political and academic arenas. This discrimination reflected general societal norms of the time, relegating women to the roles of mothers and homemakers. Women and Gender in Higher Education provides a comprehensive review of the varying concepts that address the development of women in higher education, including how women understand the world around them—making meaning for themselves and their environment—and acknowledging the intersectionality of their identity. It also breaks new ground in the conversation about the roles of women and gender in higher education.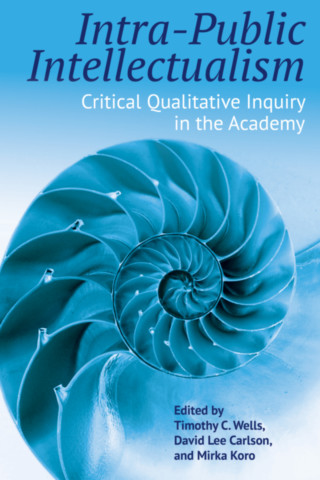 In a decidedly anti-intellectual moment, exemplified by such recent phenomena as denials of science, defunding of universities, and distrust of "facts," Intra-Public Intellectualism examines the relationships among qualitative inquiry, truth telling and social activism.
With contributions from scholars and activists around the world, the book addresses three key tensions in the field of social inquiry. The first tension concerns the proliferation of digital environments and virtual spaces, exploring how the "public" in public intellectualism might be reconsidered. The second tension concerns the ongoing critiques of truth and subjectivity, exploring how these disruptions change the work of the intellectual. The third tension concerns the growing scientific and philosophical rejection of static material worlds, exploring what becomes of social responsibility and justice when agency extends beyond human subjects.
Intra-Public Intellectualism will be a must read for those interested in the roles of the intellectual in the academy and beyond and those keen on rethinking critical social inquiry for the twenty-first century.
Perfect for courses such as:
Introduction to Qualitative Research | Critical Qualitative Inquiry and Critical Theory | Social Context and Education | Foundations of Education | Cultural Studies and Public Pedagogy | Curriculum Theory | Social Justice and Education | Advanced Qualitative Methodology | Interpretivist Inquiry | Posthumanist Inquiry | New Materialist Inquiry | Arts-Based Inquiry
In what ways can performance be mobilized to resist? This is the question that the present volume explores from within the context of qualitative research. From an arts-based approach, authors suggest methods on how artistic practice resists. The volume addresses how critical performance autoethnography might retain its ethical and democratic potential without falling into dogmatism or hegemony. This vision for democracy can even be accomplished through improvised, process-centered pieces that weave together thoughts from several key scholars, all to give us a critical perspective on how performative autoethnography is paradigmatically situated. The performance texts collected here question and resist, showing how the experience of art-making can move us through political and public spaces with liberatory potential, challenging social and ideological hegemonies and to generate social movements. Imaginative arts-based practices allow us access to emotional and embodied phenomena that remain otherwise foreclosed by traditional forms of inquiry. From poetics to public performances, subversive interventions, and more, these chapters bring a radical performative discourse to the fore. In so doing, the chapters work to create a framework for just performance, showing us how we might live performance as resistance.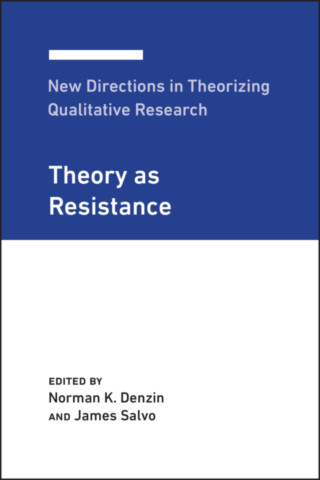 What can it mean to resist in these troubled times, and how can we do so through theory? This volume presents novel ideas on how to accomplish this in the context of the field of qualitative research. The authors show us how we might go beyond pre-existing, systematized research methodologies to find our way. They challenge us to go beyond facile modes of thought and slow down any mechanistic practices of research, a slowing that can be surprisingly generative regarding pedagogy and knowledge production. The articles think through theories such as ones theorizing the postcolonial for the purpose of responding to global hegemony regarding institutional experiences of academe. They engage with practices of new materialism and show the multiform ways in which theory can be a companion to us in our journey of research. Further, the articles question hold-overs from humanist and modernist thought so that we might perform an inclusive pedagogy. Rather than falling into the cynical view that the world is too troubled to change, this volume presents a sound vision that we have no option but to engage in theoretical practice, for now, there's no time not to think.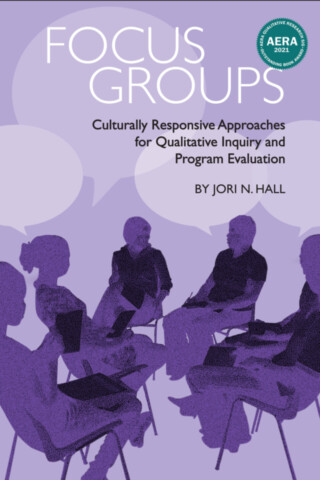 Focus Groups
Culturally Responsive Approaches for Qualitative Inquiry and Program Evaluation
A 2021 AERA Qualitative Research SIG Outstanding Book Award winner


Focus Groups: Culturally Responsive Approaches for Qualitative Inquiry and Program Evaluation
takes an in-depth look at how culturally-responsive focus groups are developed and implemented within the context of qualitative inquiry broadly, and program evaluation more specifically. The book showcases various forms of focus groups and how they can be responsive to specific communities across different disciplines. This book provides:
an historical perspective on focus groups
a theoretical foundation helpful for supporting focus groups with marginalized groups, vulnerable populations (older adults, children), and participants within non-Western settings
basic procedures for conducting focus groups
guidelines for cultural responsiveness and
case examples of alternative approaches to focus groups that target specific communities and those in different contexts.
It also considers ethical issues around the use of culturally responsive focus groups, while providing guidance on analyzing and interpreting your data and establishing the credibility of your study.
Focus Groups
is an information rich resource for qualitative researchers and program evaluators at various levels who want to learn about or enhance their knowledge on designing and conducting culturally responsive focus groups.
Perfect for courses such as:
Foundations of Culturally Responsive Focus Groups | Culturally Responsive Approaches to Program Evaluation Practicing Qualitative Program Evaluation | Qualitative Research: Culturally Responsive Methods | Focus Groups in Research | Introduction to Qualitative Methods | Methods in Educational Research | Program Evaluation Practice | Designing Qualitative Research
The chapters in this volume collect together perspectives on Indigenous epistemologies. These Indigenous ways of knowing pay particular attention to the relational aspects of language, culture, and place. They are not identified as specific themes, but as integrated parts of a philosophy, for Indigenous epistemologies think within a relational framework, so that all aspects are best understood from this perspective. Indigenous ways of knowing have resisted colonization and oppression, and as such, Indigenous research perspectives exemplify a commitment to social justice, one that recovers knowledges that have been silenced or subjugated. When such knowledge is shared, we can see how to challenge oppressive regimes. We can see how to seek truth in a relational way that's attendant to being together. Indigenous Research takes up issues of social justice in a way that is informed by Indigenous epistemologies, an important practice in contemporary research, particularly qualitative inquiry.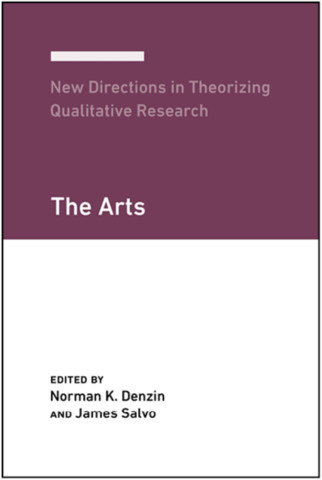 This volume on arts-based research explores the transformative power of arts for qualitative inquiry and beyond. The chapters address multiple approaches from within arts-based research and suggest that art can be mobilized to reorient the political, especially when we find the political aim straying from its proper target of truth and justice. Artistic representation is never an end in itself, for the goal is to change the way we think about people and their lives. Arts-based research makes the world visible in new and different ways, in ways ordinary scholarly writing does not allow. The Arts develops a utopian idea of belonging, illustrating how moments of history, biography, culture, politics and lived experience come together in the aesthetic. Ultimately, the content of the book examines how artistic insights resonate in arts-based research, something that not only gives us criteria for assessing the quality of ethical engagement in arts-based research practice, but also provides a conceptual framework for living more just lives through art.
The concept of difference occupies a central place in the philosophy of Gilles Deleuze. In this work, David Bright explores how Deleuze's difference can be put to work in critical qualitative research. The book explores research and writing as a creative process of dynamically pursuing problems. Following Deleuze's advice not to think of problems in terms of solutions, the book offers important methodological insights into the ways the subjects, objects, and processes of research might be conceived and represented in writing, exploring the problem of thinking and writing about difference in complex ways without reducing thought to static representations of identity. Bright uses the example of foreign teachers and international schooling in Vietnam to show us how Deleuze's difference can be used in critical qualitative research, demonstrating the limits of traditional ways of thinking about difference in learning and teaching. Exploring Deleuze's Philosophy of Difference is a book that will interest all those with an interest in the application of Deleuze's philosophy to critical qualitative research.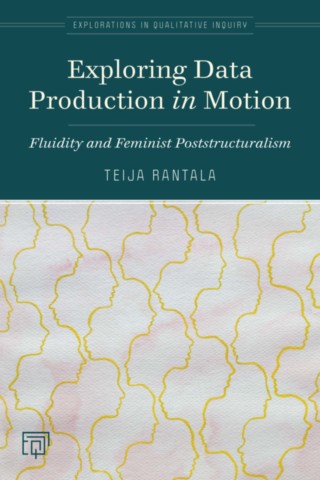 Exploring Data Production in Motion facilitates the use of feminist critical qualitative methodologies. With open-ended methods and poststructuralist theory and analysis, this book will offer tools to approach and to examine challenging and controversial topics ethically. This book will argue that to examine data of 'individual' experience and aspirations requires examining the process of the data production in which these were 'produced'. It will form an understanding of a data production as a process, which in its fluidity enables us also to form an understanding of difference and change as inevitable parts of social processes.
This text provides a unique collection of case studies across a wide range of organizations (higher education, K-12 education, military, state and local government administration, non-profit institutions, and agency management, etc.). These cases examine ethical decision-making and organizational and leadership behavioral concepts that are practiced in these organizations. The cases cover topics facing our workforce today and ask the reader to solve the dilemma. Through a discussion of these cases, students apply decision making and organizational and leadership strategies to analyze each case and therefore gain a better understanding of how to effectively lead and manage within their organizations. This text challenges students to think critically and analytically. Students are encouraged to reflect on options a practitioner could use to solve the problem. All of the cases end with an open scenario and a set of questions, allowing students to offer a wide range of opinions and participate in reflective and robust discussions.

Perfect for courses such as:
Introduction to Ethics | Introduction to Ethical Decision-Making | Principles of Ethical Leadership
Ethical Organizations: Principles and Application | Introduction to Organizational Change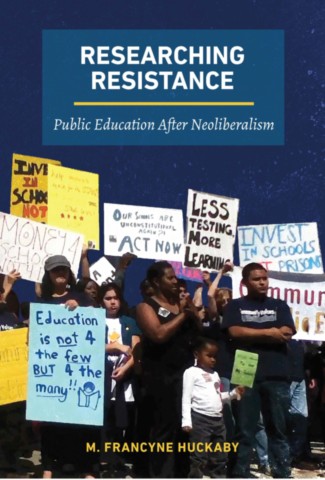 2020 Outstanding Book Award Honorable Mention from Division B (Curriculum Studies) of the American Educational Research Association


Researching Resistance: Public Education After Neoliberalism
serves two vital functions. First, it explores, explicates, and encourages critical qualitative research that engages the arts and born-digital scholarship. Second, it offers options for understanding neoliberalism, revealing its impact on communities, and resisting it as ideology, practice, and law. The book delves into
• strategies for engaging neoliberalism
• the Black feminist cyborg theoretical assumptions and intentions of the ethnographic web-based film project
• the research and arts-based methodology that walks the fault line between film and ethnography, and
• the relationships between the researcher, the activist organizations, and the activism.
While the book will focus on neoliberalism within the realm of public education, the implications extend to many other areas of public life.
This is an excellent text for classes in qualitative research and public policy. It is the companion text to the digital native ethnographic film project entitled Public Education|Participatory Democracy: After Neoliberalism.
Perfect for courses such as: Qualitative Research, Curriculum Studies, Women and Gender Studies, Race and Ethnic Studies, Sociology of Education, Social Justice and Education, Democracy and Civics, Community Engagement, Policy Studies, Service Learning, Education Reform, and Youth Advocacy.
This volume engages researchers with the notion of critical qualitative inquiry (CQI) as a direct practice of resistance. As female educators and researchers who have (through our politically activist sister) been referred to as "Nasty Women" in the US presidential debates, we believe that it is our responsibility to respond through our inquiry to the violent reinscription of intersecting forms of injustice and marginalization. The purposes of this volume are therefore (1) to demonstrate personal actions taken by researchers to deal with thoughts/feelings of despair as well as how to move toward survival, and (2) to explore historical, new, and rethought research and activist methodologies (frameworks) as counter measures broadly and for public education specifically. Examples of CQI as resistance in response to the particular neoliberal patriarchal, whitelash presidential election event are provided by featured authors. Additionally, resources related to activist scholarship are provided. These frameworks, resources, and perspectives are also useful for future research in reaction to neoliberalism, patriarchy, and white supremacy.

Perfect for courses such as: Qualitative Research, Curriculum Studies, Women and Gender Studies, Race and Ethnic Studies, Sociology of Education, Social Justice and Education, Democracy and Civics, Community Engagement, Policy Studies, Critical Race Theory, Intersectional Studies, Posthuman Inquiry, and Activism and Performance Inquiry.
These are certainly troubled times in which neoliberal capitalist patriarchy and the tyranny of racism and domination are continually reinscribed on the bodies and lives of so many. However, critical researchers understand the necessity for, as well as the difficulty of, using research to facilitate public transformations that lead to increased justice and equity. The authors contributing to Making Research Public in Troubled Times: Pedagogy, Activism, and Critical Obligations recognize the importance of diverse pedagogies, activism, and ethical choices regarding an environment that supports critical research in oppressive times. Diverse pedagogies that can facilitate the education of critical public researchers across disciplines are illustrated in the first set of chapters addressing questions like: What is important in teaching critical qualitative inquiry? How do students, materials, histories, and the public influence this teaching? What have we learned over years of attempting to teach critical qualitative research methods? The authors in the second section are activist local scholars sharing their projects and explaining what this work means for critical qualitative inquiry. This work includes methods used to incorporate critical qualitative inquiry into community activism. Finally, chapters in the last section focus on future steps and most important actions for the ways critical qualitative inquiry can be conceptualized to address concerns in these troubled times.
Perfect for courses such as: Qualitative Research, Curriculum Studies, Women and Gender Studies, International Studies, Social Work, Sociology, Higher Education, Community Engagement, Policy Studies, Service Learning, and Social Justice.