D. Emily Hicks
Emily Hicks attended the San Francisco Art Institute, UC Berkeley, the Ecole Pratique des Hautes Etudes (Paris), and UC San Diego. She received her Ph.D. in 1979 and is a professor emeritus who has taught at San Diego State University in Chicana/o Studies and English and Comparative Literature; she has also taught at UC Irvine, USC and the UABC in Tijuana, Mexico. Hicks is the author of two books, Border Writing, the Multidimensional Text, and Ninety-five Languages and Seven Forms of Intelligence: Multicultural Education in the Twenty-first Century, as well as a variety of academic articles and art reviews.
Books by D. Emily Hicks: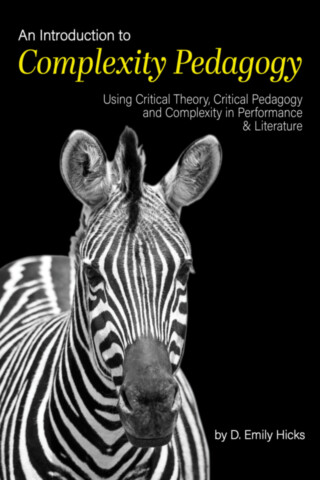 An Introduction to Complexity Pedagogy: Using Critical Theory, Critical Pedagogy and Complexity in Performance and Literature
offers readers an introduction to the basic concepts of complexity science and how they might be applied in the teaching of composition, creative writing, performance, and literature.
The book builds on Critical Theory (defined as Frankfurt Theory) and border theory, serving as a critique of neoliberalism in higher education and the teaching of critical thinking as a set of skills. Individual chapters are devoted to the following artists and writers:
• the Choctaw people
• author LeAnne Howe
• Chicana lesbian author Gloria Anzaldua
• performance artist Karen Finley
• the performance duo Bob Flanagan and Sheree Rose
The strength of this book is that it concentrates on the teaching of interrelated topics: borders (including the border between the able/disabled), complexity, mixed ancestry, ability/disability, texts, and performance, using the Mexico-U.S. border as the working example of a complexity system.
The work of the five aforementioned artists and authors are used to focus on political resistance within the context of decolonialism, but there are also references to mixed ancestry populations (including Redbones) and disability issues.
This complexity frame of reference allows the reader to see and understand both the artists' narratives and viewpoints in the dynamic relations of shorter and longer time frames. No prior knowledge of complexity science is required and ample examples of complexity-related topics-- from coral reefs to zebra stripes--are provided. The focus is on students in state universities and community college transfer students, especially first generation students and students of color, with policy implications pointing to a critique of both elite small liberal arts colleges (SLACs) and research institutions.
An Introduction to Complexity Pedagogy: Using Critical Theory, Critical Pedagogy and Complexity in Performance and Literature
is the perfect text for assignment in a variety of classrooms, including courses in Complexity Science, Composition and Rhetoric, Performance Arts, Cultural Studies, Critical Theory, Ethnic Studies, and many others.
Perfect for courses such as:
Introduction to Creative Writing | Advanced Composition | Introduction to Border Art | Introduction to Complexity in the Arts and the Humanities | Introduction to Multicultural Literature | Introduction to Chicanx and Native American Literature | Introduction to Performance Art and Social Justice | Special Topics: Complexity, the Environment, Literature and the Arts | Special Topics: Disability Studies and Performance | Special Topics: Critical Family Histories, Mixed Ancestry and Pedagogy
Lib E-Book

Library E-Books
We are signed up with aggregators who resell networkable e-book editions of our titles to academic libraries. These editions, priced at par with simultaneous hardcover editions of our titles, are not available direct from Stylus.
These aggregators offer a variety of plans to libraries, such as simultaneous access by multiple library patrons, and access to portions of titles at a fraction of list price under what is commonly referred to as a "patron-driven demand" model.
9781975504403
E-Book

E-books are now distributed via RedShelf or VitalSource
You will choose the vendor in the cart as part of the check out process. These vendors offer a more seamless way to access the ebook, and add some great new features including text-to-voice. You own your ebook for life, it is simply hosted on the vendors website, working much like Kindle and Nook. Click here to see more detailed information on this process.
9781975504410
Add to Cart