Paul R. Carr
Paul R. Carr is a Full Professor in the Department of Education at the Université du Québec en Outaouais and the Chair-holder of the UNESCO Chair in Democracy, Global Citizenship and Transformative Education (DCMÉT). He studied for two years in France in the early 1980s, and then undertook the rest of his university studies in Canada in the areas of political science, sociology and education. Professor Carr completed his doctorate in the sociology of education at the Ontario Institute for Studies in Education at the University of Toronto in 1996, with his thesis examining anti-racism and institutional culture in education. He is also the co-founder and co-director (along with David Zyngier of Monash University in Australia) of the Global Doing Democracy Research Project (GDDRP), which aims to produce a range of studies on the international level on how democracy and education can be more effectively connected. His current research is broadly concerned with social justice, with specific threads related to democracy, media literacy, peace studies, intercultural relations, the environment and transformational change. He is the co-editor of seventeen books, the author of the Does Your Vote Count?: Democracy and Critical Pedagogy (New York: Peter Lang), published in 2011, and a number of articles, book chapters and other publications in English, French and Spanish. For a number of years, before entering academia, he worked as a Senior Policy Advisor on educational policy in the Ontario Government related to anti-racism, linguistic minority rights, Aboriginal education, special education and other diversity-related matters. Professor Carr is also the author and editor of several books of poetry, including with Cuban poets in bilingual projects.
Books by Paul R. Carr: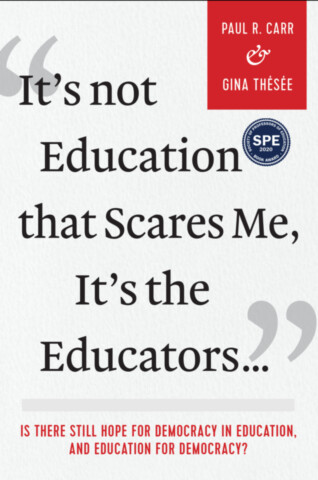 A 2020 SPE Outstanding Book Award Honorable Mention
Many people believe that "education" has a disproportionately negative effect on them and those close to them. With so much wealth, technological prowess, innovation, and economic development, why do we still have marginalization, social inequalities, conflict, mass incarceration and generational poverty?
The connection to democracy, Education for Democracy (EfD) and social justice is, for Carr and Thésée, clear, and this volume interweaves a narrative within these themes based on a Freirian theoretical backdrop. This book presents a vision for transformative education and EfD, seeking to cultivate, stimulate and support political and media literacy, critical engagement and a re-conceptualization of what education is, and, importantly, how it can address entrenched, systemic and institutional problems that plague society. Based on over a decade of empirical research in a range of contexts and jurisdictions, the authors strive to link teaching and learning with agency, solidarity, action and transformative change within the conceptual framework of a critically-engaged EfD.
Perfect for courses in: Sociology of Education; Social Justice and Education; Democracy and Civics; Community Engagement; Education Policy; Service Learning; Education Reform; Citizenship Education; Transformative Education; Politics of Education.