This book offers qualitative researchers an entrée into the world of working with archival repositories and special collections. It serves as a primer for students and researchers who might not be familiar with these sorts of collections, but with an interest in what has become known as the "archival turn," in which the use of archival materials and artifacts in contemporary research has increased dramatically since the 1990s. Suited to novice researchers seeking a general introduction into how special collections are created and how they can be used, the book offers useful, clear guidance on using different types of archives, developing topics for research within the archives, assessing materials available, how to work with archivists and curators, documenting the research process, and writing up an archival study. Archival records and material culture (including manuscripts, documents, audio- and video-recordings, and visual and material culture) housed in special collections provide a wealth of resources for qualitative researchers seeking to conduct research in the social sciences.
What are the elements of culturally responsive and sustaining instruction? How can these elements be implemented in classrooms?

One of the most effective methods of addressing these issues is the Culturally Responsive Instruction Observation Protocol (CRIOP), which is being used in school districts nationwide to guide teacher professional development. A Framework for Culturally Responsive Practices presents scholarship in second language acquisition, sociolinguistics, culturally appropriate assessment, educational anthropology, educational psychology, instruction, and critical pedagogy to provide guidance to those who strive to teach in ways that meet the needs of a diverse student population. The book is a culmination of the authors' many years of experience as both researchers and instructional coaches in schools, presenting a comprehensive portrait of the research and practices associated with culturally responsive teaching. Each chapter showcases a different element of the CRIOP, providing supporting research as well as ways to implement the element in K-8 classrooms. The book also includes several specific examples written by teachers in the field and a comprehensive bibliography. This is a practical guide that can be used in a variety of courses for pre-service teachers as well as by teachers and administrators in school districts across the country.
Our society urgently needs education that motivates, challenges, engages, and affirms all students. No matter their previous successes or failures, every student has enormous learning potential and important contributions to make now and in the future. Such meaningful learning experiences don't just happen, they need to be intentionally designed. This book supports those who will undertake this vitally important work. Learning that Matters: A Field Guide to Course Design for Transformative Education is a pragmatic resource for designing courses that engage college students as active citizens. This "work" book provides research-informed approaches for creating learning experiences and developing innovative, intellectually-engaging courses. Whether a novice or a veteran, by engaging with the text, collaborating with colleagues, and reflecting on the important work of a teacher, any motivated educator can become a transformative educator. Every college course has the potential to transform students' lives. Through implementation of critical concepts such as connected and authentic assessments; dilemmas, issues, and questions; portable thinking skills and engaging strategies; and a purposeful focus on inclusivity and equity, readers begin the process of change needed for preparing students who will be able to address the monumental challenges facing our society.
Across the globe, students are speaking up, walking out, and marching for social and ecological justice. Despite deficit discourses about students, youth are using their voice and agency to call forth a better world. Will educators respond to this call to stand with students in relational solidarity as co-constructors of a new tomorrow? What is possible when teachers and students engage together in new ways?
Pedagogies of With-ness: Students, Teachers, Voice and Agency
offers insight into the transformative possibilities of education when enacted as the art of
being with
. Driven by student voices and their experiences of marginalization, this text takes a clear ethical stance. It asserts that students are both capable and competent. Taking a narrative approach, this book honors academic work that is rooted in educational practice. Expanding beyond traditional conceptions of student voice, chapters engage in meditations on three themes: identity, pedagogy, and partnership. This book is an exploration of
with-ness
, a way of knowing, being, and acting. By centralizing the all-too-often suppressed wisdom of youth, teachers and researchers engage in new forms of critique and possibility-making with students. Editors reflect on this central theme, exploring the dimensions of such pedagogies of with-ness. Through this book, teachers are invited to imagine pedagogy under this new framework, actively committed to students, their voice, and mutual engagement.
Click HERE to watch the editors discuss their book.
Navigating Media Literacy: A Pedagogical Tour of Disneyland
is an education playbook applied to the vast mediated universe of Disney. Readers of all ages can critically apply media literacy principles while still conscientiously participating as consumer-citizens, media creators, and agents of change. Media literacy is defined throughout this book as an instructional method rather than a political movement.
The book counterbalances the frequently myopic critiques of cultural scholars and the critical exemption granted by those across the world who find Disney to be a source of great pleasure. Integrated theory and practical examples allow readers to investigate of themselves and draw their own conclusions based on real inquisitive, observatory, and creative experiences that constitute media literacy (access, analyze, evaluate, create, reflect and act). Each chapter is ideologically mapped to an actual physical realm of Disneyland (e.g., Main Street, USA; Adventureland; Tomorrowland; Frontierland; Fantasyland). Each site provides a pedagogical playground for experimenting with each media literacy concept (e.g., context, audience, language, ownership, representation). The reader will come away with a deeper pedagogical understanding of how to cultivate media literacy using any context or subject—not just Disney. Each chapter includes discursive excerpts from students, along with assignments, discussion prompts, and classroom exercises, making it a valuable resource as a classroom textbook.
Perfect for courses such as:
Media Literacy | Communication and Media Arts | Film Studies | Media History | Transmedia Studies | Business | Marketing
A 2021 SPE Outstanding Book Award Winner
It's clear that American public education has been under assault for more than the last 30 years. So much of this current "age of accountability" has focused on blame, both of teachers and those who prepare them. Somehow, unlike in other professions, declarations were made to the effect that anyone could teach better than teachers, including business leaders and people from tony universities without teacher preparation.
The Age of Accountability
scrutinizes the attack on teachers through weaponized data. While an effective corporate tool to improve bottom-line goals, its use in education became more sinister and misanthropic. International PISA scores imply the mediocre ability of American students, fueling a belief that American education needed more than an upgrade. The only answer that would placate many was a complete upheaval, a redefinition of a teacher and who should be permitted to become one. We teachers ceded authority to these business and legislative forces. Their subsequent fervor for testing overwhelmed teaching and drove the joy out of schooling for students. It is time for a recounting of what has been done to the profession and to our children. Young teachers need encouragement and veteran teachers need reminding of their valiant and effective efforts.
2021 SPE Outstanding Book Award Honorable Mention
Mistakes We Have Made: Implications for Social Justice Educators
is an edited collection from eleven authors with a wealth of experience teaching in K-12 schools and utilizing culturally relevant practices. This book is current with social justice research and strategies, while connecting to the audience through personal vignettes in each chapter. The personal connection of research supported ideas to help new teachers avoid the authors' early career mistakes in the classroom is at the center of this text. The content is organized into three themes: Inclusive Classrooms, Curriculum Implementation, and Professionalism. Reflection questions are provided at the end of each chapter, which will guide the practitioners to self-reflect and plan next steps accordingly. The e-book provides links to videos, strategies, articles, and other supplemental resources to make this text a "one-stop shop."
Mistakes We Have Made
speaks to several audiences, from pre-service teachers to new teachers, to any practitioner that needs a new perspective on teaching with a social justice lens. It can be used as a text in a variety of college courses, professional development workshops, or as a gift for new teachers.
2021 SPE Outstanding Book Award Honorable Mention
This is a collection of interdisciplinary and logically interconnected papers from nationally and internationally acclaimed researchers in philosophy, psychology, history of education, teacher training, educational leaders and practitioners, child advocates, and educators who have been motivated by the philosophy and pedagogy of Dr. Janusz Korczak (1878-1942), a world famous moral exemplar and champion of children's rights. The book provides answers to timely questions of how to respect children's rights in K-12 schools, community centers, summer camps, and colleges; how to create an atmosphere of trust and safety, and provide social-emotional learning in the classroom; how to become a genuine child advocate; and how to support growing child agency. It also tells the story of Korczak, his life, and the lives of the children in his charge.
Nurture, Care, Respect, and Trust
details how Korczak's legacy encourages and stimulates new projects and spreads around the world. The volume serves as a rich resource of practical materials for teachers and university instructors, introducing a number of innovative lesson plans, examples of students' works, and school projects inspired by Korczak's pedagogy.
Opting Out
The Story of the Parents' Grassroots Movement to Achieve Whole-Child Public Schools
A 2020 AESA Critics' Choice Book Award winner
The rise of high-stakes testing in New York and across the nation has narrowed and simplified what is taught, while becoming central to the effort to privatize public schools. However, it and similar reform efforts have met resistance, with New York as the exemplar for how to repel standardized testing and invasive data collection, such as inBloom. In New York, the two parent/teacher organizations that have been most effective are Long Island Opt Out and New York State Allies for Public Education.
The opt-out movement has been so successful that 20% of students statewide and 50% of students on Long Island refused to take tests. In
Opting Out
, two parent leaders of the opt-out movement—Jeanette Deutermann and Lisa Rudley—tell why and how they became activists in the two organizations. The story of parents, students, and teachers resisting not only high-stakes testing but also privatization and other corporate reforms parallels the rise of teachers across the country going on strike to demand increases in school funding and teacher salaries. Both the success of the opt-out movement and teacher strikes reflect the rise of grassroots organizing using social media to influence policy makers at the local, state, and national levels.
Cartographies of Blackness and Black Indigeneities acknowledges the saliency of Blackness in contemporary social formations, insisting that how bodies are read is extremely important. The contributors to this volume elicit or produce both tangible and intangible social, political, material, spiritual and emotional effects and consequences on Black and African bodies, globally. It is a call to celebrate Blackness in all its complexities, including race, ethnicity, class, gender, sexuality, (dis)ability, spiritualities, and geographies. Understanding Blackness is to insist on Black and African political and cultural appreciation of the phenomenon outside of Euro-colonial attempts to regulate and define how Black and African bodies are perceived. This book intersperses discussions of Blackness with Black racial identity and cultural politics and the required responsibilities for the Global Black and African populations to build viable communities utilizing our differences—knowledges, cultures, politics, identities, histories—as strengths.
For the past 35 years, Scott Mandel has been teaching students in an urban Los Angeles school district. In addition, he instructs teachers in professional development courses. In those classes, he's known for telling stories—stories gleaned from his time spent in the classroom. Classrooms in the Real World is a collection of many of those stories, presented as a set of teachable moments—a practical how-to book for new teachers, one based on interacting with kids on a daily basis. Rather than providing educational theories about what should be, Mandel shares real-life stories of how to relate to your students, administrators and parents, along with his thoughts on how to deal with the multiple curricular and classroom challenges that all teachers face in the real world. Chapters such as "Kids Don't Care How Much You Know As Long As They Know You Care," "Take Curricular Chances," "Administrators Want You To Succeed," "Keeping My Sanity All These Years," and "What Have I Learned" will give you the reader practical ideas, philosophies and encouragement from a long-time classroom teacher, someone still in the classroom sharing the lived experience of teaching in today's school environment.

Perfect for courses such as: Introduction to Teaching | Classroom Management | Student Teaching
"Simple acts of kindness" are not so simple. Broidy argues both for the complexity of kindness in action, and for the value of an approach to teachers' relationship with their students and other clients that is rooted in a "sensibility of kindness." Broidy's case for kindness begins by disentangling the concept of kindness from its many near relations. He traces the role of kindness and related concepts in both American educational history and in modern organizations promoting their versions of kindness.
Generally Speaking
The Impact of General Education on Student Learning in the 21st Century
This extensive overview first surveys the history of general education in the United States. It discusses how the recommendations of stakeholder groups have shaped general education in recent decades. Subsequent chapters detail best practices and findings in the assessment of student learning as it relates to the general education curriculum across institutional types. The discussion then turns to the larger impact of general education on culture and society as students navigate life beyond the undergraduate experience. The final chapters will provide insight into how various institutions are innovating through the general education curriculum, as well as a discussion on the keys to maintaining the relevancy of this curriculum throughout the 21st century and beyond.

Perfect for courses such as:
Assessment of Student Learning | Higher Education Administration
Academic Issues in Higher Education | Introduction to/Foundations of Higher Education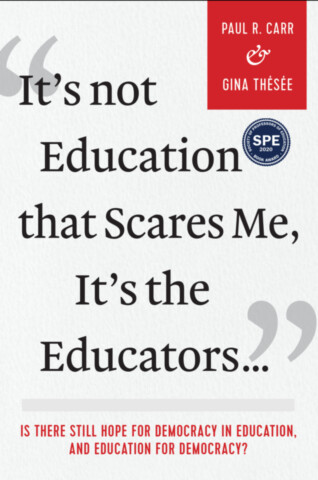 A 2020 SPE Outstanding Book Award Honorable Mention
Many people believe that "education" has a disproportionately negative effect on them and those close to them. With so much wealth, technological prowess, innovation, and economic development, why do we still have marginalization, social inequalities, conflict, mass incarceration and generational poverty?
The connection to democracy, Education for Democracy (EfD) and social justice is, for Carr and Thésée, clear, and this volume interweaves a narrative within these themes based on a Freirian theoretical backdrop. This book presents a vision for transformative education and EfD, seeking to cultivate, stimulate and support political and media literacy, critical engagement and a re-conceptualization of what education is, and, importantly, how it can address entrenched, systemic and institutional problems that plague society. Based on over a decade of empirical research in a range of contexts and jurisdictions, the authors strive to link teaching and learning with agency, solidarity, action and transformative change within the conceptual framework of a critically-engaged EfD.
Perfect for courses in: Sociology of Education; Social Justice and Education; Democracy and Civics; Community Engagement; Education Policy; Service Learning; Education Reform; Citizenship Education; Transformative Education; Politics of Education.
This new release of the classic text Pragmatism is absolutely timely. James' seminal statement of pragmatism's underpinnings and its treatment of essential philosophical questions (the nature of truth; the one and the many; free will; etc.) could not come at a more appropriate time. In a "post-truth" era of fake news, alternative facts, and a belief that "truth isn't truth," James' presentation of pragmatism as a method of adjudicating truth-claims is a must-read.

Perfect for courses in: Philosophy of Education (Graduate Level), American Philosophy (Graduate and Upper-Level Undergraduate), American Studies, Special topics class on William James or Pragmatism, Sociology of Education (Graduate Level), Religious Studies.
Lib E-Book

Library E-Books
We have signed up with three aggregators who resell networkable e-book editions of our titles to academic libraries. These aggregators offer a variety of plans to libraries, such as simultaneous access by multiple library patrons, and access to portions of titles at a fraction of list price under what is commonly referred to as a "patron-driven demand" model.
These editions, priced at par with simultaneous hardcover editions of our titles, are not available direct from Stylus, but only from the following aggregators:
Ebook Library, a service of Ebooks Corporation Ltd. of Australia
ebrary, based in Palo Alto, a subsidiary of ProQuest
EBSCO / netLibrary, Alabama
as well as through the following wholesalers: The Yankee Book Peddler subsidiary of Baker & Taylor, Inc.
9781975501624