Locating the Geographies of Black Girlhoods in Education Conference
Myers Education Press Virtual Booth

Enjoy 30% off with free shipping on these titles. Note that this "booth" is a self-contained environment to ensure you get the 30% and free shipping. If you want to add titles from our catalog, first complete your order on this page, then open the Myers Education Press website, select titles, and enter the Offer Code MYGBGE in the regular shopping cart.
Featured Titles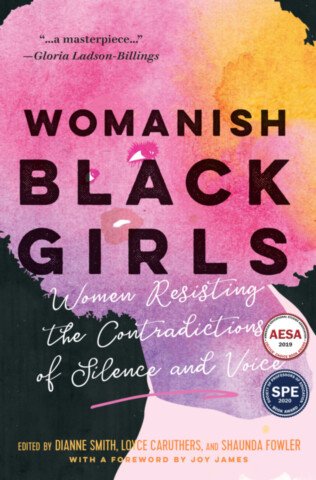 A 2020 SPE Outstanding Book Award Winner. A 2019 AESA Critic's Choice Award Winner. Womanish Black Girls/Women Resisting Contradictions of Silence and Voice is a collection of essays written by varied black women who fill spaces within the academy, public schools, civic organizations, and religious institutions. These writings are critically reflective and illuminate autobiographical storied-lives. A major theme is the notion of womanish black girls/women resisting the familial and communal expectations of being seen, rather than heard.
We Be Lovin' Black Children is a pro-Black book. Pro-Black does not mean anti-white or anti anything else. It means that this little book is about what we must do to ensure that Black children across the world are loved, safe, and that their souls and spirits are healed from the ongoing damage of living in a world where white supremacy flourishes. It offers strategies and activities that families, communities, social organizations, and others can use to unapologetically love Black children. This book will facilitate Black children's cultural and academic excellence.
A 2021 SPE Outstanding Book Award Winner. This volume brings together leading scholars and practitioners to address the theory and practice of African-centered education. The contributors provide (1) perspectives on the history, methods, successes and challenges of African-centered education, (2) discussions of the efforts that are being made to counter the miseducation of Black children, and (3) prescriptions for—and analyses of—the way forward for Black children and Black communities.
Follow us on Twitter
Tweets