Women Resisting the Contradictions of Silence and Voice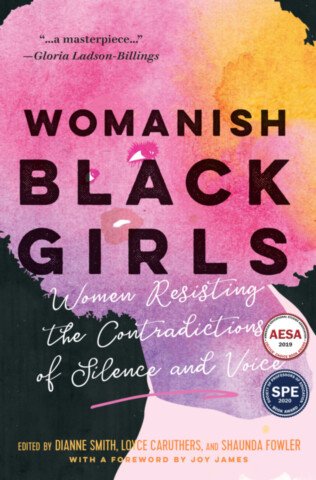 6" x 9"
Language: English
Womanish Black Girls/Women Resisting Contradictions of Silence and Voice
is a collection of essays written by varied black women who fill spaces within the academy, public schools, civic organizations, and religious institutions. These writings are critically reflective and illuminate autobiographical storied-lives. A major theme is the notion of womanish black girls/women resisting the familial and communal expectations of being seen, rather than heard. Consequently, these memories and lived stories name contradictions between "being told what to do or say" and "knowing and deciding for herself." Additional themes include womanism and feminism, male patriarchy, violence, cultural norms, positionality, spirituality, representation, survival, and schooling. While the aforementioned can revive painful images and feelings, the essays offer hope, joy, redemption, and the re-imagining of new ways of being in individual and communal spaces. An expectation is that middle school black girls, high school black girls, college/university black girls, and community black women will view this work as seedlings for understanding resistance, claiming voice, and healing.
Table of Contents:
Acknowledgments
Foreword: The Audacious Speech of the Captive Maternal Mute
Joy James
Introduction: Three Black Women Remembering Womanish Girls
Dianne Smith, Loyce Caruthers, and Shaunda Fowler
Part I: Silencing Voice and (In)Visibility as Black Girls/Women
1. Dare to Break the Silence: My Mother, Myself
Loyce Caruthers
2. My Voice: Loud, Strong, Resented, but Heard
Valerie G. Tucker
3. My Name Is NOT Pastor's Wife: A Liberating Journey from a Voiceless Self
Gloria T. Anderson
Part II: Sexuality, Slut-Shaming, and Speaking a Black Girl's/Woman's Mind
4. My Soul Looks Back and Wonders How I Got Over: A Womanish Black Girl Reclaiming Her Superpower
Shaunda Fowler
5. Crowning Queens and Shaming Sluts: Intersectionality Identification in the Mistress Stereotype
Devair Jeffries and Rhonda Baynes Jeffries
6. Breaking the Silence: Black Women's Experience with Abortion
Autumn B. Brown
7. Why I Am, Who I Am
P.V. with Loyce Caruthers
Part III: Womanism, Knowing, and Being Smart Black Girls/Women
8. Knowing Womanism: Memories, Love, Mama, and Me
Dianne Smith
9. Educated Black Women as Conscious Resisters: How Our Mother's Love Made a Way
Iesha Jackson and Trachette L. JacksonContributorsIndex
Reviews & Endorsements:
"In the #MeToo Era, Tarana Burke, Anita Hill, Alicia Garza, Patrisse Cullors, Opal Tometi, and so many other Black women have been ignored, forgotten, and erased. This volume reminds us that it was Black women who led and continue to lead the nation—indeed the world—toward human freedom and liberation. This volume is a masterpiece that belongs on the shelves of EVERY Black woman and anyone who claims to care about justice!"

Gloria Ladson-Billings, Professor Emerita, Kellner Family Distinguished Professor in Urban Education, University of Wisconsin, Madison; President, National Academy of Education
"Womanish is powerful and enlightening. This collection of life stories and essays by Black Women addresses seminal issues of autonomy, safety, visibility, freedom of expression, microaggression, sexuality, and the intersection of gender and race. The chapter on abortion is riveting. These stories are not often publicly written. The pain and shame which can accompany the decision to end a pregnancy is explored in poignant detail. Shared secrets, held in silence for so long, provide a powerful stimulus that will support the individual growth of many Black Women. Other readers will profit from understanding the experiential roots of differences women have concerning the expression of personal power in this society."

Majida Foster, Feminist/Activist
"The hard- hitting truths that emanate from this text shake the spirit and the mind in profound ways. Uncovering the testosterone infused structures of religiosity and in particular the Black church, that have silenced and marginalized Black women for so many years, is not only ably handled in this text but also demands a visceral, intellectual, and spiritual response to this hegemonically propagating oppression from the reader. Kudos to Gloria Anderson for demystifying the iconic "First Lady" position in the church and celebrating the liberty true spiritual engagements bring to one's genuine life.
It is insufficient to say that Womanish Black Girls/Women Resisting the Contradictions of Silence and Voice makes the reader think. More the case, is that the text causes the reader to recalibrate one's thinking and to engage in the self-reflective act of locating the times and spaces where one has participated in marginalizing and silencing the voices of the Black woman and to then cease and desist."

Michael E. Dantley, Ed.D., Professor and Dean, Miami University, Oxford, Ohio
"Never has it seemed more poignant for women to reveal their stories. To name their life experiences. To bring to light their truths in order to make them real. The women who contributed to this book, all "re-searchers," have chosen to tell their stories because to leave them untold, unclaimed, is to dismiss some of the most important, if painful, moments of their lives. These truths, rising in a collective voice, will resonate across social groups. As we nurture the next generation of young women, stories such as these will serve as a lighthouse amidst the stormy seas of becoming."

Christine Kemper, Founder, Kansas City Girls Preparatory Academy
"Simply amazing! Womanish Black Girls/Women Resisting the Contradictions of Silence and Voice is wonderfully written. Although I am of the opposite sex, I relate to a few of the phenomena such as being transparent in the classroom as noted by Valerie Tucker. I, too, can remember being scolded for acting grown or, as documented within the manuscript, as acting mannish/womanish. I posit that being what my culture perceives as mannish is what I credit to have influenced my success, as noted by Ms. Tucker, who stated that "My womanish ways gave me the strength to move forward and I worked to improve my community." The text underscores the many challenges of being a black woman in America; stemming from negative stereotypes, insinuations of pretending to be white by obtaining a quality education, and gender oppression. The book presents powerful phenomena deserving of exploration."

Joseph D. Blanding, COL, Ed.D., Commander, McAlester Army Ammunition Plant, McAlester, Oklahoma
"Womanish Black Girls/Women Resisting the Contradictions of Silence and Voice is an excellent book describing the life stories of Black women and the phenomenon of growing up "womanish." Although the voices and stories from these Black women are different, their collective voices echo so many stories of women (and men), who once felt scared or ashamed to tell their story and make their voices heard."

Rodney Watson, Ph.D.