Joy James
Joy James is author of The Womb of Western Theory and Seeking the 'Beloved Community'; Resisting State Violence; Shadowboxing: Representations of Black Feminist Politics, and editor of several anthologies on politics and imprisonment: The New Abolitionists; Angela Y. Davis Reader; Imprisoned Intellectuals. James is F.C. Oakley 3rd Century Professor at Williams College.
Books by Joy James: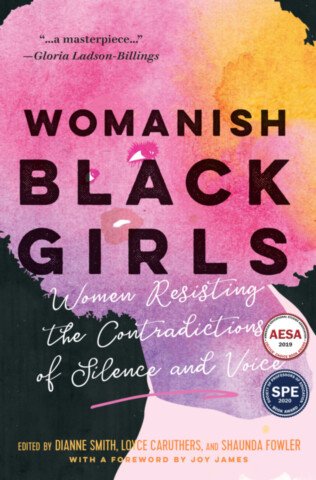 A 2020 SPE Outstanding Book Award Winner
A 2019 AESA Critics' Choice Award Winner


Womanish Black Girls/Women Resisting Contradictions of Silence and Voice
is a collection of essays written by varied black women who fill spaces within the academy, public schools, civic organizations, and religious institutions. These writings are critically reflective and illuminate autobiographical storied-lives. A major theme is the notion of womanish black girls/women resisting the familial and communal expectations of being seen, rather than heard. Consequently, these memories and lived stories name contradictions between "being told what to do or say" and "knowing and deciding for herself." Additional themes include womanism and feminism, male patriarchy, violence, cultural norms, positionality, spirituality, representation, survival, and schooling. While the aforementioned can revive painful images and feelings, the essays offer hope, joy, redemption, and the re-imagining of new ways of being in individual and communal spaces. An expectation is that middle school black girls, high school black girls, college/university black girls, and community black women will view this work as seedlings for understanding resistance, claiming voice, and healing.
Perfect for courses in:
Adolescent Development, American Studies, Black Studies, Educational Anthropology, Latino Studies, Multicultural Education, Social Foundations of Education, Sociology and Women's Studies.