Adam J. Greteman
Adam J. Greteman is an associate professor of Art Education at the School of the Art Institute of Chicago. His work addresses the ethical and political challenges and possibilities that emerge as genders and sexualities are centralized in pedagogical and philosophical thought. He is the co-founder with Karen Morris and Nic Weststrate of the LGBTQ+ Intergenerational Dialogue Project. His work has been published in various journals including Educational Theory, Journal of Philosophy and Education, Educational Philosophy and Theory, Discourse: Studies in the Cultural Politics of Education, Studies in Art Education, and QED: A Journal in GLBTQ Worldmaking. He is the author of Sexualities and Genders in Education: Toward Queer Thriving (2018) and the coauthor of The Pedagogies and Politics of Liking (2017).
Books by Adam J. Greteman: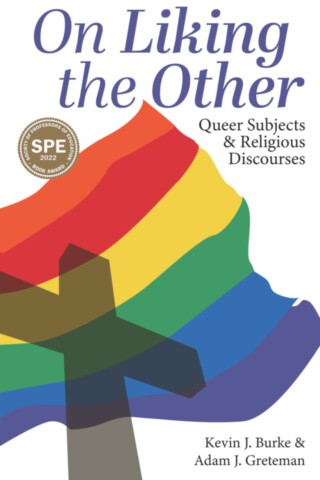 A 2022 SPE Outstanding Book Award Winner


On Liking the Other: Queer Subjects and Religious Discourses
studies the intersection of religious and queer discourses in teacher education. It looks at the sometimes difficult topics rooted in these two particular discourses, which are often seen as unwelcome in both public and private educational spaces. In engaging in such a conversation, the authors seek to think about the ways that these discourses, while steeped in discontent, dilemma, and difficulty, might also offer ways to reorient ourselves amidst twenty-first century educational realities. More to the point, the text puts queer histories and logics into conversations with theologies through the concept of
liking
. Eschewing the typical antagonism that often defines the relationships between religious and queer discourses, this book seeks to look for resonances and overlaps that might provide new habits for conducting the work of meeting in teacher education classrooms and educational worlds.
On Liking the Other
is an excellent text for a variety of classrooms and courses.
Lib E-Book

Library E-Books
We are signed up with aggregators who resell networkable e-book editions of our titles to academic libraries. These editions, priced at par with simultaneous hardcover editions of our titles, are not available direct from Stylus.
These aggregators offer a variety of plans to libraries, such as simultaneous access by multiple library patrons, and access to portions of titles at a fraction of list price under what is commonly referred to as a "patron-driven demand" model.
9781975504083
E-Book

E-books are now distributed via RedShelf or VitalSource
You will choose the vendor in the cart as part of the check out process. These vendors offer a more seamless way to access the ebook, and add some great new features including text-to-voice. You own your ebook for life, it is simply hosted on the vendors website, working much like Kindle and Nook. Click here to see more detailed information on this process.
9781975504090
Add to Cart