Gaile S. Cannella
Gaile S. Cannella is an independent scholar who has served as a tenured Full Professor at Texas A&M University, College Station, and at Arizona State University, Tempe, as well as the Velma Schmidt Endowed Chair of Education at the University of North Texas. Her work has appeared in a range of journals and volumes, including Qualitative Inquiry, Cultural Studies - Critical Methodologies, and International Review of Qualitative Research. Her most recent books are: Critical Qualitative Research Reader (2012) with Shirley Steinberg; Reconceptualizing Early Childhood Care and Education (second edition 2018) with Marianne Bloch and Beth Swadener; Critical Qualitative Inquiry: Foundations and Futures (2015) with Michelle Pérez and Penny Pasque; and Critical Examinations of Quality in Childhood Education and Care (2016) with Michelle Pérez and I-Fang Lee. She is currently working on research projects that include: early years critical perspectives in education, and critical qualitative inquiry as public activisms and unthought imaginary. Dr. Cannella received the 2017 Reconceptualizing Early Childhood Education and Care Bloch Career Award.
Books by Gaile S. Cannella: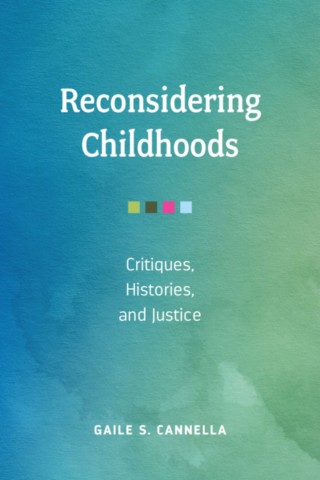 For over 30 years, critical scholars and educators have challenged the dualistic thinking that reinforces an adult/child dichotomy and the normative bias in human development knowledge. Yet those who are younger continue to be represented, often controlled, and objectified by self labeled "adults," who purposely or unconsciously function as developmental expert, all knowing educator, academic, researcher, theorist, parent, politician, or capitalist. Further, in the 21st century, globalization and technology, along with neoliberal capitalism, are changing the world at the speed of light and in ways that no one can predict for themselves or children.

This book overviews this history - as well as the contemporary global colonial past-present in which those who are younger live. Further, the states of marginalization, invisibility, and erasure experienced by many are discussed. From within this context, various critical practices are emerging that attempt to create conditions that would increase equity and justice for children. This volume discusses these actions including acknowledging that justice for those who are younger will likely never occur without attention to the more than human and the world more broadly.
As part of a larger education movement some scholars in early childhood education have engaged in work that challenges universal constructions of "child". This scholarship is labeled reconceptualist/critical and place at the forefront: concern for diversity; improving conditions for those who have been traditionally marginalized; and understanding of power structures and impositions that generate harm and privilege. This volume explores these issues in a manner that is accessible to those new to the field. Each chapter provides a thorough discussion of one of the earliest forms of scholarship that addresses: cultural and life diversity; challenges to monocultural science; dominant narratives in the field; linguistically marginalized children; adult power; problematizing deficit models; responding to children; rejecting universalist construction; and creating new possibilities for those have been labeled "children". Further, the book provides annotated bibliographies that glimpse into the shifting landscape for childhood education and care.
This volume engages researchers with the notion of critical qualitative inquiry (CQI) as a direct practice of resistance. As female educators and researchers who have (through our politically activist sister) been referred to as "Nasty Women" in the US presidential debates, we believe that it is our responsibility to respond through our inquiry to the violent reinscription of intersecting forms of injustice and marginalization. The purposes of this volume are therefore (1) to demonstrate personal actions taken by researchers to deal with thoughts/feelings of despair as well as how to move toward survival, and (2) to explore historical, new, and rethought research and activist methodologies (frameworks) as counter measures broadly and for public education specifically. Examples of CQI as resistance in response to the particular neoliberal patriarchal, whitelash presidential election event are provided by featured authors. Additionally, resources related to activist scholarship are provided. These frameworks, resources, and perspectives are also useful for future research in reaction to neoliberalism, patriarchy, and white supremacy.