Dennis Sumara
Dennis Sumara is Dean Emeritus and Professor of Language and Literacy Education at the University of Calgary. His areas of research and teaching include literacy education, queer studies in education, curriculum theory, and teacher education. His scholarly work has critiqued problematics associated with normativity in literacy education, curriculum studies, and teacher education. It also has informed creating productive ways to make schooling more inviting to the many individuals and groups who have in the past found themselves excluded. In so doing, he has been able to demonstrate how critically analyzing conceptions of normal and normativity in teaching and learning can create more inclusive and productive situations for everyone. Sumara was co-founder of the Journal for the Canadian Association for Curriculum Studies, former Editor of Journal of Curriculum Theorizing, and currently is Editor of Teaching Education Journal. He was awarded the 2003 Ed Fry Book Award by the National Reading Conference for his book Why Reading Literature in School Still Matters and the 2019 Canadian Association for Teacher Education Award for Distinguished Research Contributions.
Books by Dennis Sumara: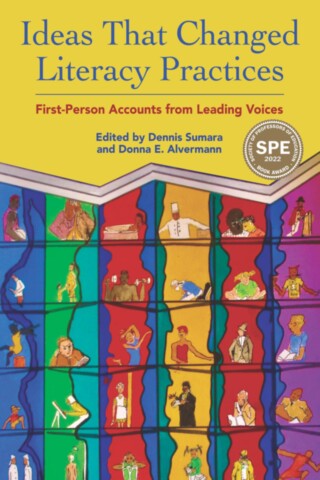 A 2022 SPE Outstanding Book Award Winner
How do ideas change practices and people? In
Ideas That Changed Literacy Practices,
32 influential scholars in literacy education get personal about how they have worked on ideas and how those ideas have worked on them. Together, the essays offer never-before revealed personal histories of the authors' published writing about ideas that have shaped the field of literacy education. As a collection, the essays highlight some of the major themes that have guided and changed literacy practices over the last few decades. They also offer a rare glimpse into the complex ways histories of research emerge alongside personal and political influences on policy and practice.
The volume includes an introductory chapter by Sumara and Alvermann in which they detail the processes they used in creating a context for the significance of this work. They begin with the premise that most literacy scholars rarely, if ever, reveal their personal and intellectual investments in ideas that have animated their research and other scholarly endeavors. That this observation rang true for all of the contributors was evidenced in their responses to the invitation. For example, some replied by saying this was the most exciting project they had engaged in because it required reflection on what motivated them to write the requested 3,500-word essay; others mentioned they were looking forward to reading what their peers would share.
Lib E-Book

Library E-Books
We are signed up with aggregators who resell networkable e-book editions of our titles to academic libraries. These editions, priced at par with simultaneous hardcover editions of our titles, are not available direct from Stylus.
These aggregators offer a variety of plans to libraries, such as simultaneous access by multiple library patrons, and access to portions of titles at a fraction of list price under what is commonly referred to as a "patron-driven demand" model.
9781975503963
E-Book

E-books are now distributed via RedShelf or VitalSource
You will choose the vendor in the cart as part of the check out process. These vendors offer a more seamless way to access the ebook, and add some great new features including text-to-voice. You own your ebook for life, it is simply hosted on the vendors website, working much like Kindle and Nook. Click here to see more detailed information on this process.
9781975503970
Add to Cart