Post-Obama Insights from Women Educators of the Black Diaspora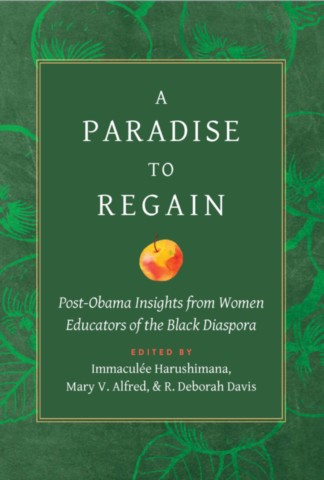 6" x 9"
Language: English
A Paradise to Regain: Post-Obama Insights from Women Educators of the Black Diaspora
seeks to avert the likelihood of erasure of President Barack Obama's legacy of hope and possibility that every child, regardless of race, faith, and gender affiliation, can dream big and live to see his/her dream turn into reality. As women educators of color, we all agree that the socio-political climate prevailing in the United States of America, since the aftermath of the 2016 election, requires unprecedented agency. The book provides space for Black women educators–African Americans, Naturalized Black Americans, and Foreign-born Blacks from Africa, the Caribbean Islands and South America (e.g., Guyana)–to have a candid conversation with their young children—sons and daughters, nephews and nieces—about the roadblocks they are likely to face as minority youth of color in their pursuit of greatness and the reminder that they have a role model in President Obama to look up to in moments of extreme frustration and exasperation. Voices of engaged educators of color are indispensable to make sure that children understand that that despite a-360-degree turn from eight consecutive years of a reassuring message that "change had come", that paradise had been gained, into the threatening message of "making America white again", we count on them to regain the paradise.
Table of Contents:
FOREWORD--Yolanda Sealey-Ruiz
INTRODUCTION: Eight Years of Paradise: An Obama Will Come Again—Immaculée Harushimana
SECTION ONE: THE BURDEN OF LEADING WHILE BLACK.
Chap. I: "They're Coming for Our Jobs Too!" Double Standards for Black and White Leadership in the Age of Obama and Trump—Rosaire Ifedi
Chap. II: Does Race Matter in Dissertation Mentoring?: A Black Native Caribbean Woman Research Methodologist Genuflects and Reflects—Janice Fournillier
Chap. III: Transformative Leadership-"Botho-Humane": A Wellness Perspective—Maheabo D. Magano
Chap. IV: Mission to Accomplish: A Journey to Math Democracy—Marcia Burrell
Chap. V: Teaching Through the Lens of a Mother—Josephine Jarpa Dawuni
SECTION TWO: GENDER EQUALITY AND WOMEN EMPOWERMENT
Chap. VI: Gender Equality Not of This World: In the Brave New World—Lindamichelle Baron
Chap. VII: Hope Ring: Memories of a Black Girl Finding Hope During the 2008 Elections—Ronisha Browdy
Chap. VIII: Oppressive Patriarchy: African Women Struggle with Gender Inequality—Kedibone Gladys Mokwena
Chap. IX: Teaching Adult Learners of Color in a Time of Struggle: The Impact on Children –Jaye Jones
Chapter X: Incivility: Experiences of a Black widow in Higher Education Working Environment–Sizakele M. Matlabe
SECTION THREE: HOW BRAVE ART AFRICAN WOMEN IMMIGRANTS?
Chap. XI: Where Is Justice for Immigrants! "If You Prick Us, Do We Not Bleed? If You Tickle Us, Do We Not Laugh?—Mary Ghongkedze
Chap. XII: "Talking Some and Leaving Some": One Kenyan Woman's Strategy of Teaching and Sustaining Minority Languages in America—Esther Milu
Chap. XIII: When Being Articulate Isn't Enough: The Narrative of a French-Speaking African Woman Faculty of English—Immaculée Harushimana
Chap. XIV: Can You Get It if You really Want?: A Jamaican-Born Science Educator Reflects on Success Attainability—Ellie Williamson
Chap. XV: Beware of False Consciousness: A Letter to My Son—Shirley Sommers
SECTION FOUR: BLACK SELF-AFFIRMATION
Chap. XVI: Standing with Barack Obama: The Need for Black Scientists in STEM Education—Diane Price Banks
Chap. XVII: "Yes, I can; Yes, We can!" Reflections of a Caribbean Immigrant Sistah in the Struggle with a Legacy of Determination, Strength, and Empowerment—Mary Alfred
Chap. XVIII: Writing Ourselves into History: Examining a World of Black Imaginings and Possibilities—Tracy Cook-Person
Chap. XIX: On being a Biracial Woman of Black and Puerto Rican Descent: A Mother-Daughter Conversation—Patricia Isaac
Chap. XX: To Dream the Impossible Dream—Lindamichelle Baron
SECTION V: CAN A BLACK MALE CHILD DREAM BIG IN A MELANIN-PHOBIC WORLD?
Chap. XXI: Hope: President Barack Obama's Legacy to Black (Male) Children—Eleanor T. Campbell
Chap. XXII: Dreams for My Son: Dreaming Big in America—Faith Muturia
Chap. XXIII: Dreams Shattered and Restored: President Barack Obama Confronting the Shadow of Absent Fatherhood and the Pursuit of a Healthy Relationship—Faith Maina
Chap. XXIV: The Black Male as World Citizen and Cultural Ambassador: Embracing Multiple Identities—Rasheeda Ahmad
SECTION SIX: PARADISE TO REGAIN: CHANGE MUST COME AGAIN
Chap. XXV: "Oh, Mercy Mercy Me - Change is Gonna Come…Again"—Gillian U. Bayne
Chap. XXVI: Yes, She Did: Following Queen Mother Sanford Wherever She May Go—Lindamichelle Baron
Chap. XXVII: As Long as There Is Life: Elections That Shaped My Transnationality—Immaculée Harushimana
Chap. XXVIII: From Barack Obama to Donald Trump: Two Extremes at Making History—Aminata Diop
Chap. XXIX: Supporting the Village that Raises the Children: From the Perspective of a Community Advocate—Patricia Mason
Chap. XXX: We Danced in the Streets: Obama Era, Civil Rights Generation, and Voting Rights—Mary E. Dillard
CONCLUSION: Looking Back to Move Forward: A Black Women's Collective (Re-)Imagining and (Re-)Membering Hope and Change—Sherry L. Deckman