Immaculée Harushimana
Immaculée Harushimana is a 2018-2019 Fulbright Scholar (Malawi) and Associate Professor of TESOL and English education in Lehman College, City University of New York. Her major area of inquiry is in critical linguistics and its implications for literacy instruction to adolescents in a globalized world. The underlying theme of Harushimana's research is linguicism as reflected through African-born immigrants' academic and professional integration, multilingual identities, and alternative discourses. Harushimana's research and writings have been published in edited volumes and refereed professional journals. Her books include Reprocessing race, language and ability: African-born educators and students in transnational America (2013), which brings together the experiences of African-born teacher educators, k-12 teachers and secondary youth in the USA and Canada. Her 2016 book African immigrants' experiences in American schools: Complicating the race discourse, co-authored with Dr. Shirley Mthethwa-Sommers, explores the effect of intersecting issues of race, nationality, and spirituality on the schooling adaptation of African-born children in western school settings. Currently, Harushimana is lead editor and contributor to her third book entitled, Paradise to Regain: Post-Obama Insights from Women Educators in the Diaspora, under contract with Myers Education Books (2019).
Books by Immaculée Harushimana: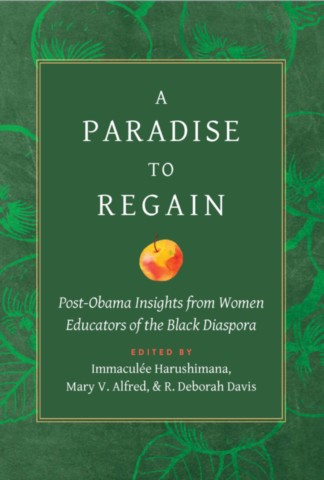 The history of presidential politics reached a new and significant milestone with the election of Barack Obama in 2008. It sparked great hope in America for greater racial equity and social justice. A Paradise to Regain: Post-Obama Insights from Women Educators of the Black Diaspora seeks to avert the likelihood of erasure of President Obama's legacy of hope and possibility that every child, regardless of race, faith, and gender affiliation, can dream big and live to see his/her dream turn into reality. As women educators of color, we all agree that the socio-political climate prevailing in the United States of America, since the aftermath of the 2016 election, requires unprecedented agency. The book provides space for Black women educators–African Americans, Naturalized Black Americans, and Foreign-born Blacks from Africa, the Caribbean Islands and South America (e.g., Guyana)–to have a candid conversation with their young children—sons and daughters, nephews and nieces—about the roadblocks they are likely to face as minority youth of color in their pursuit of greatness and the reminder that they have a role model in President Obama to look up to in moments of extreme frustration and exasperation. Voices of engaged educators of color are indispensable to make sure that children understand that that despite a 360-degree turn from eight consecutive years of a reassuring message that "change had come," that paradise had been gained, into the threatening message of "making America white again," we count on them to regain the paradise.

Perfect for courses such as: Racism and Education Inequality in the Lives of African-American Youth, Introduction to the African Diaspora, Equity and Diversity in Schools, Place, Language, Power and Knowledge, Global and Multicultural Education in the Secondary School, Issues in Urban Education, Culture Power and Education, Social Class Education and Pedagogy, Language, Culture, and Education, The Politics of Literacy and Race in Schools, Race and Racism in Education and Society, Race, Ethnicity and Linguistic Diversity in Classrooms and Communities, and Education and Society.