R. Deborah Davis
R. Deborah Davis is a Full Professor Emeritus from State University of New York at Oswego, School of Education in Curriculum & Instruction where she has taught Culturally Relevant Teaching and Foundations of Education courses for the past seventeen years. Dr. Davis earned her Doctorate (1996) in Higher Education Administration from Syracuse University, MPA (1991) S U, and BA (1988) from Columbia College, Missouri. Served as the Diversity Coordinator, School of Education; Director of Teacher Opportunity Corps grant (NYS Dept of Ed - 2008-2011; 2011-2014; 2014-2017); Member – Oswego Project SMART Professional Development team with the Syracuse City School District until her retirement in January 2017. Continues to volunteer as the Community representative at Van Duyn Elementary School.
Books by R. Deborah Davis: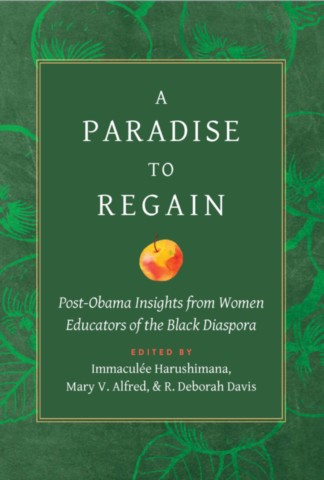 The history of presidential politics reached a new and significant milestone with the election of Barack Obama in 2008. It sparked great hope in America for greater racial equity and social justice. A Paradise to Regain: Post-Obama Insights from Women Educators of the Black Diaspora seeks to avert the likelihood of erasure of President Obama's legacy of hope and possibility that every child, regardless of race, faith, and gender affiliation, can dream big and live to see his/her dream turn into reality. As women educators of color, we all agree that the socio-political climate prevailing in the United States of America, since the aftermath of the 2016 election, requires unprecedented agency. The book provides space for Black women educators–African Americans, Naturalized Black Americans, and Foreign-born Blacks from Africa, the Caribbean Islands and South America (e.g., Guyana)–to have a candid conversation with their young children—sons and daughters, nephews and nieces—about the roadblocks they are likely to face as minority youth of color in their pursuit of greatness and the reminder that they have a role model in President Obama to look up to in moments of extreme frustration and exasperation. Voices of engaged educators of color are indispensable to make sure that children understand that that despite a 360-degree turn from eight consecutive years of a reassuring message that "change had come," that paradise had been gained, into the threatening message of "making America white again," we count on them to regain the paradise.

Perfect for courses such as: Racism and Education Inequality in the Lives of African-American Youth, Introduction to the African Diaspora, Equity and Diversity in Schools, Place, Language, Power and Knowledge, Global and Multicultural Education in the Secondary School, Issues in Urban Education, Culture Power and Education, Social Class Education and Pedagogy, Language, Culture, and Education, The Politics of Literacy and Race in Schools, Race and Racism in Education and Society, Race, Ethnicity and Linguistic Diversity in Classrooms and Communities, and Education and Society.