It's Not Education that Scares Me, It's the Educators...
Is there Still Hope for Democracy in Education, and Education for Democracy?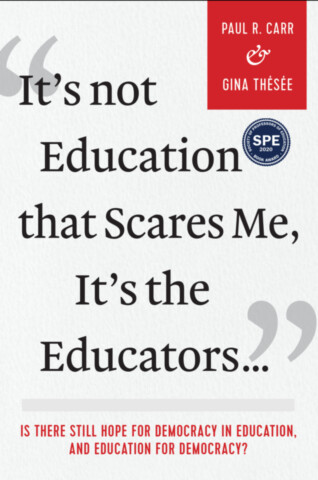 6" x 9"
Language: English
A 2020 SPE Outstanding Book Award Honorable Mention
Many people believe that "education" has a disproportionately negative effect on them and those close to them. With so much wealth, technological prowess, innovation, and economic development, why do we still have marginalization, social inequalities, conflict, mass incarceration and generational poverty?
The connection to democracy, Education for Democracy (EfD) and social justice is, for Carr and Thésée, clear, and this volume interweaves a narrative within these themes based on a Freirian theoretical backdrop. This book presents a vision for transformative education and EfD, seeking to cultivate, stimulate and support political and media literacy, critical engagement and a re-conceptualization of what education is, and, importantly, how it can address entrenched, systemic and institutional problems that plague society. Based on over a decade of empirical research in a range of contexts and jurisdictions, the authors strive to link teaching and learning with agency, solidarity, action and transformative change within the conceptual framework of a critically-engaged EfD.
Perfect for courses in: Sociology of Education; Social Justice and Education; Democracy and Civics; Community Engagement; Education Policy; Service Learning; Education Reform; Citizenship Education; Transformative Education; Politics of Education.
Table of Contents:
FiguresTablesAbbreviationsAcknowledgments
Foreword: In Search Of Democratic Education
Antonia Darder
1. Introduction: Who's Scared of the Classroom? And Can We Talk about It?
2. What's So Wonderful about Democracy, and Where is the Link To Education?
3. Some Theoretical Voices That Underpin Our Approach To Democracy
4. The Mythology of Democracy and the Quest for a Way Out
5. On the Trail of Signs of Democracy in and around Education: Starting with a Synthesis of the Research and Some Conceptual Thoughts
6. Connecting the Prospect of Democratizing Education with the Experiences of Educators: What Is the Effect?
7. Transforming Educational Leadership without Social Justice? Critical Pedagogy and Democracy
8. Critically Engaged Democracy as a Practice of Resistance and Resilience against Tyranny
9. Some Proposals/Recommendations from Transformative Education
10. A Few More Thoughts on Democracy and Transformative Education
Afterword: If We Cannot Transform Democracy, Then the Paroxysm of Decay That Results from the Disintegration of the Fairy-Tale Will Continue to Prolong Our Free Fall into Infantile Helplessness
Peter McLaren
Notes on the Authors
Index
Reviews & Endorsements:
"Carr (Univ. du Québec en Outaouais) and Thésée (Univ. du Québec à Montréal) seek to transform education through a participatory understanding of democracy. Advocating for processes that support organizations, teachers, and students who engage in critical citizenship, the authors' vision drives educators to think deeply about issues of social justice, marginalization, and poverty. Carr and Thésée draw on their findings from the Global Doing Democracy Research Project (2008–15) to present a wide range of critical information on how educators can do democracy. Readers familiar with Paulo Freire's Pedagogy of the Oppressed (1968) will identify similar themes in the authors' positions on critical pedagogy and curriculum for democratic engagement, which extend into intriguing applications. Readers new to such conversations may find the range of complex paradigms and theories eye-opening but overwhelming. The tone and style of the text will primarily appeal to academics in the discipline; however, a significant number of charts, tables, and diagrams provide context, making this study accessible to broader audiences. Speaking to the pressing need to address prevalent organizational problems in education, this is an engaging yet audience-specific treatise on education for democracy." (Advance review in CHOICE connect, September 2020, Vol. 58, No. 1.)
"Democracy and education are commonly used in public discourse. Yet these two grand words are often regrettably misunderstood. Paul and Gina's timely book offers fresh and critical perspectives on democracy and education and what they can become, particularly for those who have been historically oppressed. Educators, policymakers, researchers, and avid readers genuinely interested in knowing or at least imagining what education for all might look like in a democratic society should not miss this amazing empirical work!"

Pierre W. Orelus, Fairfield University
" "Generation after generation has amassed piles of knowledge and written piles of books," cries a teacher in Bertolt Brecht's play The Mother (1931). "And never have we seen such confusion," he continues. How apt are these words, written almost a century ago, and how timely the topic of Professor Paul R. Carr and Professor Gina Thésée's book on democracy and its links to education. We desperately need to find the roots for democracy and democratic education anew, and that's exactly what the authors are looking for."

Juha Suoranta, Tampere University
"Carr and Thésée's combined talents and life forces pierce our consciousness and awaken our democratic barometers with provocative questions and evoke an urgency to conduct a democratic audit and action plan. During these troubled times, as democracy seemingly..." (read more)

Suzanne SooHoo, Chapman University
"In their book "It's not Education that Scares me, it's the Educators...": Is There Still Hope for Democracy in Education, and Education for Democracy?, Paul R. Carr & Gina Thésée investigate and analyze the possibilities and hopes for a global transformative and democratic education. Any important transformative education must..." (read more)

William M. Reynolds, Georgia Southern University
"Against all odds, Carr & Thésée have created a book that offers hope for the potential of democracy in education. Exhibiting a rare balance of critical scholarship, possibility, and readability, they show how teachers are responsible for the kind of transformative education required for authentic democracy and compassionate global citizenship. In re-imagining how..." (read more)

Four Arrows (Don Trent Jacobs), Fielding Graduate University
"With our fragile democracy under siege, fake news obfuscating truth at every turn, and a newly invigorated White supremacy on brazen display, this book—more than ever—is required reading. A critically engaged and participatory democracy is our only hope for resistance, resilience, and, ultimately, justice. By interrogating..." (read more)

Marc Spooner, University of Regina