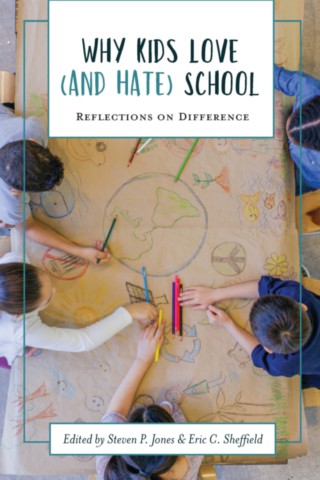 6" x 9"
Language: English
This collection consists of theoretical discussions, personal reflections, research reports, and policy suggestions sourced in the experiences of our most vulnerable students with an eye to making schools places all students might love rather than hate. The essays take up these issues from the perspectives of poverty, gender, race, ethnicity, ability, language, and religion among others.

These essays also provide practical advice for teachers and administrators—both practicing and pre-service—for making classrooms and schools spaces that would encourage our students to say, "I love school."
Perfect for courses in: Introduction to Education, General Methods, Social Foundations of Education, Diversity, Management/Assessment, Philosophy of Education, Sociology of Education, Educational Research, Educational Administration/Leadership, Teacher Leadership, Curriculum Theory, and Curriculum Development.
Table of Contents:
-
Foreword
by Laura Ruth Johnson
-
Introduction: Why Kids Love (and Hate) School: Reflections on Difference
by Steven P. Jones & Eric C. Sheffield
-
"Everybody's Listening": When Learning Is Relevant
by Jesse Moya
-
We Really Hated School: The Journey of Two Black PhDs From Alienation to Transformation
by De'Andre Shepard & Kalvin DaRonne Harvell
-
Meeting the Needs of Muslim Learners in an Islamophobic Era
by Parisa Meymand
-
Classes Where "Kids Learn/Don't Learn a Lot": A Study of Mexican American Adolescents' Voices
by Janine Bempechat, Margarita Jimenez-Silva, Jin Li, & Susan D. Holloway
-
The Power of Schools to Redirect Pathways: Supporting Students' Love of Learning Across Time and Place
by Eréndira Rueda
-
Under the School Roof, Inside Classroom Walls: The Power of Place-Based Plot Patterns to Shape School Stories of Happiness or Humiliation for Students
by Kathy Carter, Amanda Sugimoto, Kathleen Stoehr, & Griff Carter
-
Kids Love a Classroom for Everyone
by Rob Schulze
-
Forgotten Learners: Academically Strong Kids in Struggling Schools
by Jeanne Carey Ingle
-
Chain Link Poetry
by Robin Brandehoff
-
Alternative Education Programs: Changing Our Vantage Point
by Lynn Hemmer & Michael Watson
-
Listening to the Voices of Our Students: A Framework for Engagement in Science
by Rachelle A. Haroldson
-
Restorative Practices: Beyond Sensitization to Building Skills and Organizational Change
by Robert C. Chalwell Jr.
-
Contributors
Reviews & Endorsements:
"The editors and chapter authors in this volume make a valiant effort to engage an age-old realization in the United States: the idea that education is very different from 'school.' If school is order and compliance and education is questioning said order and compliance, readers will be able to develop a clear understanding of the push for viable education from a grounded perspective. I am thankful to them for the constant reminder that attaining educational justice is a struggle in perpetuity."

David Stovall, Ph.D, Educational Policy Studies and African-American Studies, University of Illinois at Chicago
"Teacher educators could easily use this book as they work with their preservice students, or it could be studied in a professional learning community seeking to create more inclusive classrooms. Each story provided is worth knowing about and discussing. Indeed, for any educator looking for a little inspiration to gently start some difficult conversations in their teacher education classes or with K-12 teachers, this volume might be a good place to begin." (Read full review at TCR HERE.)

Sarah Elizabeth Barrett, Associate Professor and Associate Dean, Academic Programs, in the Faculty of Education, York University - , Teachers College Record, ID Number-22957
"At a time when education policy seems more influenced by think tanks than by insider knowledge of classrooms, Why Kids Love (and Hate) School: Reflections on Difference does the necessary work of gathering perspectives from the field. The diverse teacher, researcher, and student voices that erupt from these chapters tell a multitude of stories in a cacophony of styles—in turn humorous, cajoling, indignant, intimate, academic, and more. Individually and collectively, they allow readers to experience schooling—its joys and sorrows, triumphs and tragedies—through the eyes of the students the institution was least designed to serve."

Isabel Nuñez, Professor and Chair Department of Educational Studies, Indiana University-Purdue University Fort Wayne
"This compilation of perspectives drawn from experience and research offers an outstanding resource for exploring perspectives of student engagement and learning. Too often, academic discussion of the educative process centers on educator-based prescriptions of what is to be done to and with students, particularly underserved and 'underachieving' students. This work provides valuable and accessible insights into how thoughtful, open exploration by teachers and teacher educators of how students experience schooling might lead to significantly improved outcomes."

Paul L Landry, PhD, Heritage University
"Jones and Sheffield have adeptly and brilliantly conducted a chorus of significant voices to tell their stories of the various forces that make learning spaces either relevant sanctuaries or worthless places of physical and psychological trauma, perhaps both. I highly recommend this powerful anthology of stories to all actors interested in making schools exciting places of critical democracy and sites of curious inquiry and positive transformation."

René Antrop-Gonzalez, Dean School of Education, Metropolitan State University
"Why Kids Love (and Hate) School underscores how essential relevancy and relationships are to learning. This book gives voice to our students and how we can help create meaningful learning environments with them."

Gloria Delany-Barmann, Professor and Bilingual/ESL Program Coordinator, Western Illinois University